TA's Reunite in Berlin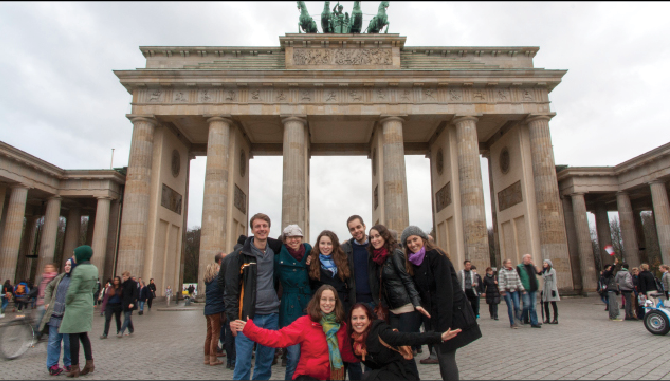 Former Dickinson College teaching assistants (TAs) met in Berlin, Germany for a reunion from Nov. 1 through 5. Eight TAs from the 2011-2012 academic year, a TA from the 2010-2011 academic year, and five other friends from Germany and Spain participated in reunion activities. The TAs were: Chiara Aprea (Italy), Isa Bustos (Spain), Daniel Cuevas (Spain), Norman Nemitz (Germany), Sasha Kozhevnikova (Russia), Sarah Tourteau (France), Caroline Döring (Germany), Johanna Purvin (Germany), and Insa Kohler (Germany).
Bustos, Nemitz, Cuevas, Kozhevnikova and Tourteau came up with the reunion idea over a Skype call and were determined to see it come to fruition. The activities uring the reunion weekend included sightseeing, clubbing, climbing the top of Kreuzberg Mountain and catching up with friends.
Nemitz was the main organizer of the event and offered up his new apartment for lodging.
"When a small circle of the TAs decided to reunite this fall, I was very happy," reported Nemitz. "Not only because we have not seen each other since our shared Dickinson experience, but [we are] also busy with everyday business [and] it is difficult to stay in touch with people that matter to you at all times."
Overall, the TAs enjoyed the time they had together.
"The feeling we all shared during those four days was actual unity and happiness," said Kozhevnikova. "When I came back home, I was so full of positive energy which you could only get from being with your closest friends."
Nemitz had only good things to say about his experience.
"It was just a great time of laughter, exchange and a commonly perceived feeling of unity and friendship—as if we just departed from Dickinson just a month ago," he said.
"But what also lasts from this experience is the sheer happiness that continues to brighten each day and the feeling that there is a bunch of nice, intelligent, unique and fun people out there that I proudly call very close friends beyond our Dickinson experience."
Bustos shared the sentiments of friendship and love through her favorite moment of the trip.
"Each one of us said a few words to express how…in spite of not having seen each other since we left Dickinson, our friendship and the love we share for one another have remained untouched and have even helped us to go through difficult times," added Bustos. "That moment was really moving because we could see that every word we were saying came from our hearts."
The TAs also reflected on their time abroad at Dickinson.
"Going abroad…helped me to gain open-mindedness on the world, on my country and on people in general, to get to know [people] from other cultures and who think differently than I do," said Tourteau. "It allowed me to have a deep thought about myself, who I am, what I want and what I expect from life."
Kozhevnikova shared his thoughts on the TA program.
"The TA program has so many advantages—you not only work as a TA and help students learn your language, but also it gives you [the] opportunity to take classes and be an actual student in [an] American college, experience [a new]…educational system, enjoy communication with amazing professors [and] learn new things," said Kozhevnikova.
The TAs expressed gratitude towards the Dickinson community and send greetings. They spoke of appreciation towards the college and deeply benefited from their experience here.