Issei, Inspirational Medicine Team Up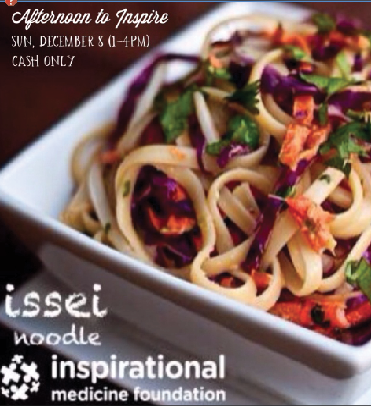 Inspirational Medicine, a 501c non-profit organization founded by a Dickinson alumnus, has planned an exclusive event with Issei Noodle.
On Dec. 8, Inspirational Medicine will host Afternoon to Inspire, a cash only event. Teaming up with Issei, a restaurant on High Street in Carlisle, the organization hopes to raise $250 to purchase an iPad with Dickinson and Issei engraving. The iPad will be donated to Johns Hopkins University or Penn State Hershey.
"The iPad will be contributing to pediatric care and will be accessible for children to use during treatment for academic and entertainment purposes," said College Ambassador for Inspirational Medicine Steven Rodriguez '14.
Rodriquez and Henry Kumi '14, also a college ambassador for Inspirational Medicine, hope the iPad will help attendees feel like they are contributing to something. Any additional proceeds will contribute to iPad accessories.
Issei will be open only for the Dickinson community from 1 p.m. to 4 p.m. with a specialized menu. Inspirational Medicine will also have t-shirts and sweatshirts on sale. Rodriguez and Henry Kumi hope this will be a campus wide accepted event and organization. It is not affiliated with a specific group and the volunteers come from all parts of campus.
Coleman Bass '12 founded the organization in 2011 with the goal of connecting sick children to their heroes.
"The goal of the organization is to connect children to their heroes using modern video technology like Skype and face time," said Rodriguez "Basically, what we want to do is bring inspiration to a child who might be in a hospital or who might be in a life threatening situation and connect them with someone who's a hero of theirs. So, if the child is a huge soccer fan, we want to try and connect them with Christiano Renaldo."
Kumi points out that heroes can be anyone, not necessarily celebrities.
"What we don't want is to let people think we are only letting chronically ill children meet celebrities, because it's not celebrities – it's your heroes," said Kumi. "So if that's…your uncle who's in Minnesota and you're here and he helped you to develop your interest in technology, then we're going to have you connect to… whatever he's doing or some other technological guru."
Since a Dickinson alumna founded the organization, Rodriguez and Kumi are working with the administration to make the school officially affiliated.
On campus, Inspirational Medicine raises awareness through fundraisers and raffles. Last year, they hosted the Artwork featuring on campus performers, artists and groups. They hope to bridge gaps and unite all campus groups for one cause. Their event with Issei is one such attempt to integrate the organization with the campus.
"We are trying to do local events to spread awareness in Dickinson so that Dickinson students can become ambassadors for Inspirational Medicine without us even telling them," said Kumi.
Inspirational Medicine is connected to a Grammy award-winning producer. They are in the works of creating an Inspirational Medicine album to benefit the Sickle Cell Association of America as a nationwide promotional strategy.
Rodriquez and Kumi are looking for students to get involved with the organization. Those interested can contact Rodriquez at [email protected] or Kumi at [email protected] For more information, visit http://www.inspirationalmedicine.org.