Carlisle Shaken by Shooting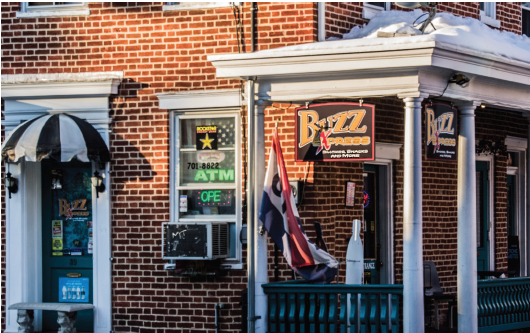 Hang on for a minute...we're trying to find some more stories you might like.
Gunfire rang out on Pomfret St. on Thursday, Feb. 13 at 3 p.m.
The official report released by the Carlisle Police Department (CPD) says that a juvenile girl was shot in the head while entering the Buzz Express convenience store, located at 39 W. Pomfret St. A second woman, standing near the first, was grazed by a passing bullet but was otherwise unharmed.
According to a Red Alert e-mail sent to students from the Department of Public Safety (DPS), CPD believes that while the shooting was intentional, neither of the victims were the intended target. The shooter escaped before police could apprehend them.
The identities of the two victims have not been released to the public.
Within minutes of the shooting, police and EMT workers were present at the scene. According to an article published the day of the shooting on The Sentinel's website, an ambulance took the victim with the head wound to the Carlisle Regional Medical Center to receive treatment.
"It's great to have the opportunity to serve the people of this community and to be able to help so many individuals in so many different ways. I truly love my job," said Dave Tretter '14, an EMT with Cumberland Goodwill EMS who was on duty at the time of the shooting.
Police reports indicate that the girl who was shot was released from the hospital in good condition only a few days after the incident.
Though no one has been arrested for the shooting, police are following up on leads. A downtown camera system captured pictures of two men, suspected to be involved in the shooting, fleeing the scene. The grainy photos, released to the media on Feb. 13, show the men slowly walking across the street before breaking into a run.
A second set of photos, showing a car police believed was used as a getaway vehicle by the shooters, was released on Feb. 18. At the time of printing, Carlisle Police are currently searching for the car's owner, Chase Godfrey, who has been named as a person of interest in the case.
This is not the first time the police have been dispatched to the local convenience store. In the last five months, according to an article published on The Sentinel's website, the store has been robbed and received accusations of clientele using drugs outside their door. An apartment above Buzz Express was also raided for drugs early in November.
After the campus-wide e-mail was sent to the entire school, students expressed general concern over the shooting so close to the school campus.
"The sudden influx of crime is worrying, but not a huge problem," offered Kevin Doyle '16.