PAC Series Honors Hoffman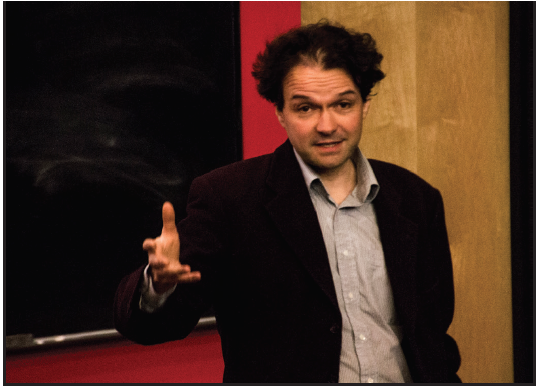 In keeping with its efforts to redefine its role on campus as a promoter of discussion about contemporary issues, the Public Affairs Committee (PAC) hosted the second installment of its three-part Phillip Seymour Hoffman Retrospective on Monday, Feb. 17 in Althouse 106.
Monday's screening of Charlie Wilson's War was sponsored by Student Senate and was followed with a discussion by Ed Webb, assistant professor of Political Science and International Studies. Webb commentated on Hoffman's portrayal of CIA agent Gust Avakrotos and the film's treatment of issues of Geopolitics. In the first installment of the series on Feb. 10, professor Todd Wronsky led a discussion of Hoffman's 2004 film The Master; on Feb. 24, the series will conclude with a screening of Synechdoche: New York and a discussion led by Greg Steirer, assistant Professor of English and Film Studies.
Since its inception in 2013 following the dissolution of the Public Affairs Symposium, the PAC has sought to localize discussion of national and international events. The Retrospective, spurred by Hoffman's untimely death on Feb. 2, is the most recent example of such programming.
During the Spring 2013 semester, the PAC related all of its events to a semester-long theme, culminating in a keynote event at the end of each semester. In Spring 2013, the PAC theme was "Next Great Debates: Perspectives on Emerging Problems," and its speaker for its annual Poitras-Gleim keynote lecture was Clay Shirkey, a writer, consultant and speaker. According to Senate President Will Nelligan, the PAC abandoned the confines of themed programming in Fall 2013 in favor of events that spoke to a more diverse set of issues.
"[Last spring], the point of the PAC was to host a speaker who could speak to contemporary issues but we are redefining ourselves to create interaction between students and faculty outside the classroom," said PAC member Jessica Klimoff '16. "We were just getting off the ground last semester, so it was more like we were experimenting a little bit and not hosting too many events."
Klimoff also noted that PAC members take any number of issues and events into consideration when deciding on events. PAC events have taken the form of lunches, panels and teach-ins and seek to maximize student-to-faculty engagement. According to Klimoff, the PAC plans its events "about two to three weeks in advance." Acting within this timeframe allows the organization to arrange events that speak to issues as they are unfolding.
In addition to the Hoffman retrospective, this semester the PAC has also hosted a State of the Union viewing and two faculty lectures. On Thursday, Feb. 6, the PAC hosted a seminar with assistant professor of Education Sarah Bair on education equality in America. The following week, Karl Qualls, assistant professor of History, spoke about Russia's attacks on LGBTQ activists.