Taking Stock of our Space
College launches Space Utilization Study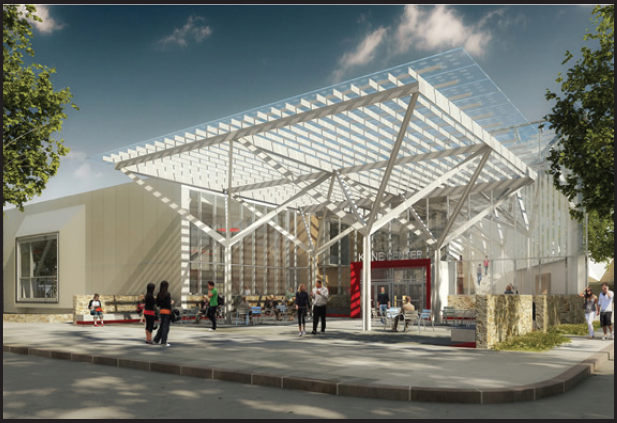 In an effort to make informed decisions about space utilization in the short-term and long-term planning stages, the College has launched a Space Utilization study in partnership with a third-party consulting firm to take place throughout the months of February and March.
This initiative comes at the heels of the 2013 acquisition of the Allison Methodist Church, now known as Allison Hall. According to Brenda Bretz, associate provost for Curriculum, President Nancy Roseman conceived a Space Planning Committee upon her arrival to campus last year. Originally intended to designate a use for Allison Hall, Bretz said that the committee did not feel that they had adequate information to make a well-informed decision about the possible uses for the new property.
"It became very clear [to the Committee] that anything we would put in Allison would be something we would be moving from somewhere else, [but] we really didn't feel as if we had all the info we needed to have in order to… make a good decision about that – that's why we needed to make a study," said Bretz.
In addition to the Allison acquisition, the College also completed an addition to the Rector Science complex and is continuing an expansion of the Kline Center. The recent renovations and purchases have resulted in 200,000 square feet of usable space, according to a Feb. 4 email from Bronte Jones, vice president of Finance and Administration. Jones and the Space Utilization Committee launched the study to gain information necessary to make data-driven decisions about how to use that space effectively.
Although the college completed a Master Plan effort during the 2007-2008 school year and recently completed a residential life survey, Jones said that this study will be the most comprehensive audit of its kind to date.
"That's the idea of the study – we're not replicating anything that's been done before," said Jones. "Quite frankly, I think we're going to learn a lot about how we're actually using our space versus how we assume we are using our space. One of the really important aspects of this is to understand what our needs are, and to understand what our needs are relative to some of the opportunities we have, and that's going to allow us to start thinking outside of the box."
For the study, the college has partnered with Rikes Partners, Inc., a Massachusetts based consulting firm that offers analysis and planning in space utilization to institutions of higher education. According to Bretz, the use of a third-party firm is necessary to gain an objective view of how the college currently uses its space and how it ought to use its space in the future.
"It's nice to have someone from off-campus to do that who doesn't have pre-conceived ideas of how we use space or how we should [use our space,]" said Bretz. "Sometimes how we think we're using space isn't actually how we're using our space, which is hard to see yourself."
According to Jones, the firm will solicit community input through electronic surveys and interview sessions.
"I'm expecting that we'll see the survey coming out within the next couple of weeks," said Jones. "The study [also] includes 20 interviews with faculty, staff, and students. The idea is to get the surveys done and use that [data] to inform the interviews. I think the thing we all want to be clear about is that this is an opportunity for everybody on campus to weigh in… [the findings of the study] will be based on the input of faculty, staff, and students. This is not something that is administratively driven, it is not academically driven – the entire community weighing in on what we think our priorities are."
After gathering data from the surveys and interviews, Rickes is expected to deliver a report of its findings to the administration at the end of March. Jones stressed that the study will not effect immediate change, but instead provide "an informed framework from which [the college] can make calculated decisions."
"Even after we get all the info, we have to start prioritizing [changes] and then in some cases, given the magnitude of the project, we may have to identify funding," said Jones. "We're going to have to get the data, find what's in the data, so that we can prioritize and share that so that we're all clear about how we're moving forward."
Overall, Jones and the Space Utilization Committee hope that the study will harness community input to effect practical and necessary change on campus.
"[Enhancing] academic life and student life [is] certainly a goal and a priority, and I think for us [another] goal is being smart – using data to drive your decisions. I think this [study] helps us to do that," said Bretz.