Albright to Deliver Commencement Speech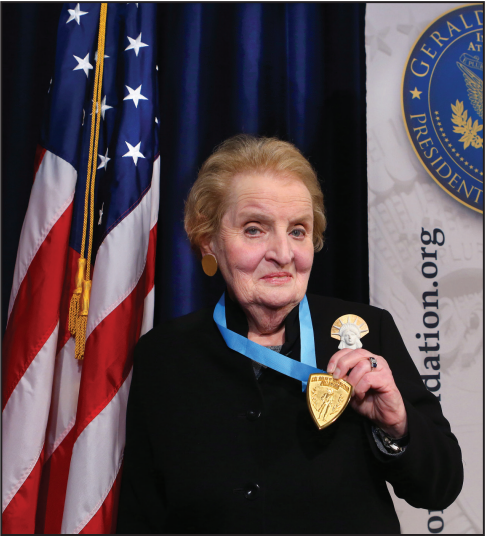 In an email to the members of the senior class on Tuesday, Feb. 25, President Nancy Roseman announced that Madeline Albright, former secretary of state and representative to the United Nations, will deliver the Class of 2014 Commencement address on May 18.
According to a press release from Dickinson College, Albright was named the first female Secretary of State in 1997 under president Bill Clinton. During her term as secretary of state, "Albright reinforced America's alliances, advocated for democracy and human rights, and promoted American trade, business, labor and environmental standards abroad."
Albright currently serves as distinguished professor of Diplomacy at Georgetown University's Edmund A. Walsh's school of Foreign Service and chairs both the National Democratic Institute for International Affairs and the Pew Research Center's Global Attitudes Project. In 2012, President Barack Obama awarded Albright with the Presidential Medal of Freedom, the nation's highest civilian honor.
Albright has also written five New York Times-bestselling books: her 2003 autobiography, "Madam Secretary: A Memoir," "The Mighty and the Almighty: Reflections on America, God, and World Affairs," "Memo to the President: How We Can Restore America's Reputation and Leadership," "Read My Pins: Stories from a Diplomat's Jewel Box" and "Prague Winter: A Personal Story of Remembrance and War, 1937-1948."
Members of the senior class expressed excitement at Tuesday's announcement.
"My first reaction, when I heard [about the speaker], was amazement," said Shanice Grant '14. "She is an amazingly popular figure who helped shape the United States' society and our academics. I am really interested in seeing what she will say at graduation."  
"I am really very excited to hear that [Albright] is coming back to campus," said Caroline O'Neil '14. "I am looking forward to hearing her speak." 
In addition to delivering the commencement address, Albright will be presented with an honorary doctoral degree in international relations. She will share the stage in front of Old West with two other honorary degree recipients: world-renowned violinist David Kim and entrepreneur and philanthropist H.F. (Gerry) Lenhfest.