Dickinson Springs into Service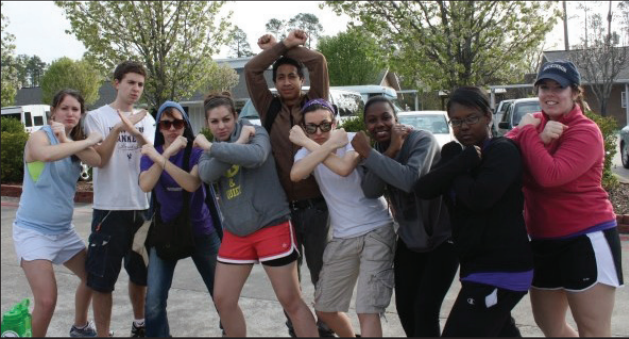 52 Dickinson students and eight faculty and staff members have decided to dedicate their spring breaks to community service, traveling to Kentucky, South Carolina, Georgia and Alabama with the four Spring Break Service Trips sponsored by the Office of Community Service and Religious Life. From March 8-16, trip attendees will partner with programs such as Habitat for Humanity to build houses and bring aid to those in need.
 
Each trip has 13 students, including two student leaders, as well as two faculty or staff members. With the help of staff and leaders, the students will spend the week helping other volunteers in their respective cities, while also getting to know the community.
"[On previous trips, I've had] awesome experiences that introduced me to new people on campus, new global issues and new ways of serving a community outside of Carlisle," said Cindy Bauer '16, a student leader for the trip travelling to Harlan County, Kentucky.
 
To prepare for the trips and offset costs for the volunteers, students and leaders have held many fundraisers, including selling grilled cheese on Britton plaza and delivering it to the library and holding a coffee hour at the local St. Paul's Evangelical Lutheran Church in Carlisle. All together, the fundraisers have raised approximately $1,000. Each volunteer paid $175 to participate in the trips, which covers transportation, food and lodging costs.
 
In Greenwood, South Carolina, leaders Cassidy Leighton '14 and Taylor Evertsberg '14 will spend the week framing a new house with Habitat for Humanity. This house has already been dedicated to a single mother and her children, and will be available for them to move in as soon as the work is complete.
"I think knowing that we're contributing to making a difference in a family's life is exciting," said Leighton.
 
In Harlan County, Kentucky, students and faculty will be participating in a new and different type of service trip. They will be working with an organization called Interfaith Appalachia. As part of their service, volunteers will help with food distribution and other small projects, including working with local artisans, such as a wood worker and blacksmith, to learn hands-on about the alternatives the community has besides its traditional coal mining industry.
 
The team going to Upper Sand Mountain, Alabama will be working on tornado relief and rebuilding efforts. A few years ago, a series of tornados caused destruction and the community is still working to rebuild. In Macon, Georgia, a team will be working with the Fuller Center to build affordable housing.
 
Students have been attending team-building meetings in preparation for the trips, which all depart on Saturday, March 8.
"I'm excited at the prospect of getting to know and work with complete strangers, and I look forward to making a positive influence in the lives of the people in Greenwood," said Chase Philpot '14, who will travel to Greenwood for his first service trip.
 
The Office of Community Service and Religious Life has seen a 25 percent increase in trip applications since last year alone, and plans to extend trip opportunities in the future.
"Historically, there has been an international trip over winter break every other year, two or three spring break trips and a weekend trip," said Ted Dressel '14, a student employee in the Office of Community Service. "We would like to see an international trip every year, four spring break trips and weekend trips in the future."
According to Dressel, the office also hopes to begin collaborating with other offices throughout Dickinson's community. An example of this is an upcoming trip to New York City co-sponsored by the Office of LGBTQ services. The weekend trip will take place March 21-23 and will focus around work within the LGBTQ community. Applications for the LGBTQ service trip are due March 5.
Students interested in community service on Dickinson's campus or in the Carlisle community can contact the office of Community Service and Religious Life at [email protected] or [email protected]