Mentor Program Replaces OA Position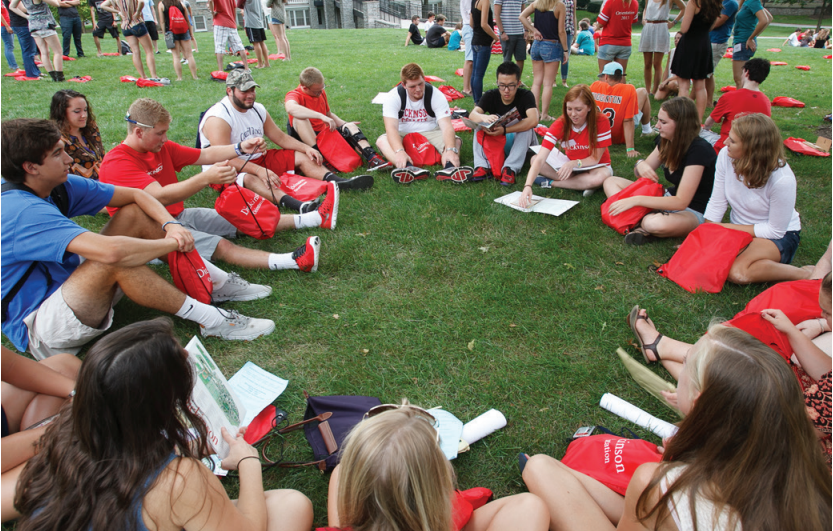 Earlier this year, the Enrollment and Student Life Committee (ESLC) began discussing ways in which they could increase the first-year retention rate. The solution to the problem, proposed by the Committee, was to better align academic and student life, beginning by restructuring the format of first-year orientation.
In the current orientation format, which has been in place for two years, incoming students attend orientation programming and events with the members of their first-year seminar class. The new organizational model marks a departure from seminar-based groupings; instead, each member of the incoming class of 2018 will select a First-Year Interest Group (FIG). Each FIG, consisting of 10 to 20 students, will be formed around a common interest.
Students can choose from art and design; campus activities and leadership; community service; computers, gaming and technology; creative writing and journalism; entrepreneurship; environmental activism; fitness and wellness; food from farm to table; gender and sexuality; global perspectives; music; outing experiences; politics and law; pop culture; religion and spirituality; science and society; social justice; and theatre and dance.
"In the past, Orientation Groups were also First-Year Seminar groups and lived together, which limited a student's social circle," said Annie Kondas, assistant director of Campus Life. "First-Year Interest Groups will no longer be associated with a first-year seminar or residential community and therefore will allow students to meet not only more students, but students with common interests." Although orientation groups will not be based on seminar, the First-Year Seminar and Learning Communities will remain unchanged.
To accommodate the modification in the structure of orientation groups, the position formerly known as Orientation Assistant has been revised to create a new, expanded position called a First-Year Mentor. The First-Year Mentors will be upper-class students who will lead a FIG through orientation events and continue to meet with that orientation group over the course of the semester. The purpose of the First-Year Mentor is to assist in acclimating the students to the campus and to provide them with possibilities for campus involvement that suit their interests.
"The combination of relationships that start within the first-year seminar and those that start in the orientation/interest groups maximize the opportunities for incoming students to feel 'connected' early in their Dickinson experience," said Shalom Staub, Dean of First-Year Students. "Adding the first-year mentors to the ongoing first-year interest groups will create additional resources for first-year students to learn about campus resources and find pathways to deeper engagement in campus life."
Unlike Orientation Assistants, the First-Year Mentor will be a paid position. Orientation Assistants were not paid in the past because their job consisted of one week of work during orientation and two follow up meetings, whereas the First-Year Mentor role will continue for the duration of the year.
Students who have completed at least one semester at Dickinson and have maintained a 2.75 GPA are eligible to apply to be a First-Year Mentor. The paid position requires students to attend training sessions in April and August, and to participate in all orientation events from August 27-31. The Office of Student Life has begun accepting applications, which are due Friday, March 21 at midnight.
"I applied because I'm really interested in getting more involved with student life and I don't really think there's a better way of doing that then interacting with the incoming class," said Hannah Thompson '17.
"It is our hope that a First-Year Mentor will provide an opportunity for upper class students to help new students experience a positive transition to college over the course of the entire academic year, offer peer insight into academic and social life at college, as well as help introduce students to activities and events on campus," said Kondas.