Campus Competes to Save Energy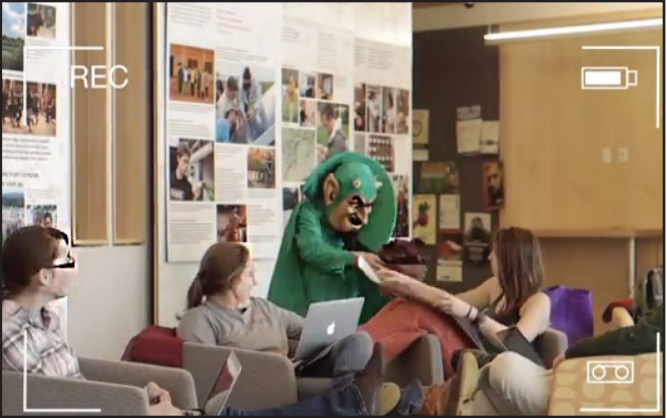 The Center for sustainability education (CSE) is encouraging all Dickinson students, faculty and staff to take part in the 2014 Energy Challenge, titled "Student EmPOWERment," to help reduce Dickinson's energy consumption. The challenge, which began on March 17 will last for 3 weeks and end on April 7.
The Energy Challenge is a campus-wide event that aims to increase awareness of Dickinson's energy consumption and impart sustainable living practices through educational events and campaigns. The 15 residential halls that will take part in the event will be competing for three categories of prizes: greatest reduction in energy usage in an electric-heated residence hall, greatest reduction in energy usage in a non-electric-heated residence hall and the residence hall with greatest student participation.
The amount of reduction can be followed live through Dickinson's Building Dashboard this year, where students can see real-time energy-usage data. Participation will be measured by the number of residents who attend events, and students can also make a commitment to participate by changing their profile pictures on Facebook.
The winners of the challenge will be announced at Relay for Life on April 11th.
The Energy Challenge has its roots in the college's Climate Action Plan (CAP). Established in the past three years, CAP pledges to reduce Dickinson's greenhouse gas emission to 20% with an 80% wind power offset by 2020. These efforts are part of the college's requirements as a member of the Leadership Circle of the American College and University Presidents Climate Commitment (ACUPCC).
This is not the first time that Dickinson has held an energy challenge. During the 2012 four-week challenge, Dickinson saved approximately $6,500 in energy costs. If the steps taken during the month-long challenge were implemented throughout the year, the college would save on average just under $84,000 a year.
This year's energy challenge consists of three weekly themes. The themes of the first, second and third week are "Lights Out", "Unplugged" and "Power Down and Go Outside" respectively.
On March 17th, the campus community gathered in the cafeteria for Dinner in the Dark. Organizers of the Energy Challenge also plan to hold a bonfire on Morgan field on March 29 to celebrate both the energy challenge and Earth Hour. Earth Hour is an international event that consists of an hour of no electricity use. At the event there will be free s'mores, a capella performances and coffee provided by the Peddler.
Other Dickinson organizations are hoping to take part in the Challenge. The college's Outing Club plans to host a sunset hike on April 5 to honor the end of the Energy Challenge. On April 11, a finale event will take place at the Kline Center during Relay for Life.
Throughout the 3-week-competition, the Eco-Reps will also hold events in their residence halls. The representatives for Davidson-Wilson will be hosting an event with volleyball and pizza in order to get students outside and conserve energy. The Eco-Reps in Malcolm hosted an event in the first week where they made ice-cream without using electricity and watched movies together in the common room, rather than watching movies independently and using unnecessary energy.
"Our goal is to get people excited and encourage them to participate. If we can show students firsthand the amount of energy they are using, while simultaneously providing them with the knowledge of how to reduce their consumption, we can make a big change on this campus." Christine Burns 14', Eco-Rep Student Supervisor.