Weiss Prize Recipients Hold Concert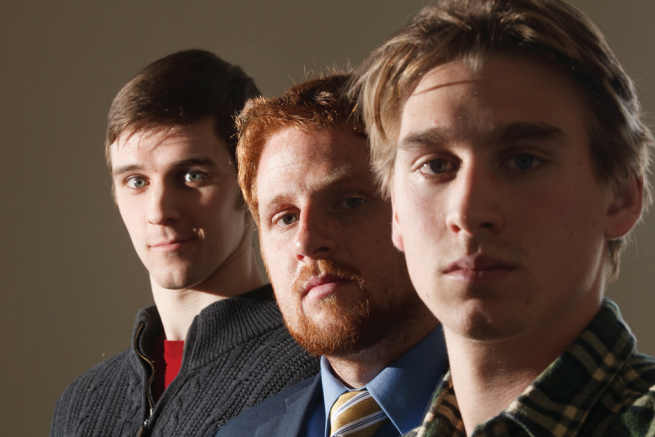 Three Dickinson seniors showcased their composition and conducting skills at this year's Weiss Prize concert, held Sunday, March 30 at 4 pm in Rubendall Recital Hall.
The Weiss Prize Concert, "Night and Day," premiered pieces composed by Alexander Strenta '14 and Stephen Reale '14 and conducted by David Cochrane '14. The performance was well attended, with audience members filling the majority of the hall.
The Weiss Prize is given by Emil and Tamar Weiss to support the production of a creative work of students in one of Dickinson's artistic departments, including Visual Art, Music, Theatre and Dance and Creative Writing. The winning students are given a $1,000 budget to support the production of their project, according to Robert Pound, associate professor of Music.
A different department hosts the Prize each year, and it is open to rising seniors within that department. After students submit project proposals, a committee of the Provost and representatives from each of the arts departments meet to determine which of the proposals, if any, will receive the prize.
To be eligible for the prize, students must be enrolled in a course in the respective department. As a result, projects are supported and supervised by a faculty member, but remain primarily student-driven.
Strenta and Reale, two of this year's winners, both commented that when they first heard about the Weiss Prize as sophomores, they made it their goal to be selected.
"Alex and I, being the composition majors in the group, said that we would each write a variation on the same theme to see how each of our compositional minds dealt with the material," said Reale.
Reale's compositions were inspired by the poem "The Summer Moon" by Clark Ashton Smith. After finding the poem and coming up with the idea, Strenta and Reale decided that Reale would compose a choral piece about the "night" described in the poem and Strenta would compose an instrumental piece about the "day."
After finding "The Summer Moon," Reale's compositional process began by reading the poetry, analyzing it and writing down the musical ideas it evoked.
"Every week I would bring what I had been working on to a meeting with Professor Pound, who would give feedback, critiques and comments about both the small and large-scale ideas I was employing," said Reale. "One of my greatest challenges was establishing a sense of unity between the movements."
"I decided that I was going to write about what I knew, which was being a college student," Strenta said. "From there, I wrote a first draft of a narrative, a short story, with key points and finally used those as guidelines in the actual composition, pertaining to changes of mood, tempo, dynamics, genre, et cetera." Whereas Reale drew inspiration primarily from Smith's poem, Strenta said that he found musical inspiration from artists such as Tyga, Kanye West and Beethoven.
Cochrane was involved with conducting the pieces composed by Reale and Strenta.
"Stephen and Alex both wrote their pieces and I had to interpret the pieces and teach them to the choir and to the chamber ensemble, and it was a lot of fun getting to work with that and have not only a friend but a conductor-composer relationship between them," said Cochrane. "I think by the end, everybody became really passionate about the music and loved singing what they were singing, and not because of wanting to sing for Alex or Stephen but rather they really started to love the music that they were singing."
Attendees enjoyed the concert.
"Stephen Reale's piece was both beautifully haunting and eerie and had all the refinement of a piece created by a much older composer," said Dan Allegar '17 at the conclusion of the performance.
"Alex's piece was a very unique experience of translating ordinary events into a musical interpretation, and it was also very cool that it was completely student run," said Lisa Johnsen '17, who performed in the instrumental piece.
Though both student composers succeeded with their goal, their outlooks on the overall process were quite different.
"The one giant thing this experience has taught me is that I most certainly do not want to go into this as a career," said Strenta, "Pouring as much emotional energy into this as I did was0something that I'm glad I did, but it's something that I don't want to do ever again, especially when making a living depends on it."
Reale found the experience rewarding.
"The experience has taught me a lot about myself on many levels, as a composer, as a reader and really as a creative person in general," said Reale, "It's an incredibly gratifying and rewarding feeling to know that all of my hard work has resulted in something real and concrete."