CSE Observes Earth Hour with Bonfire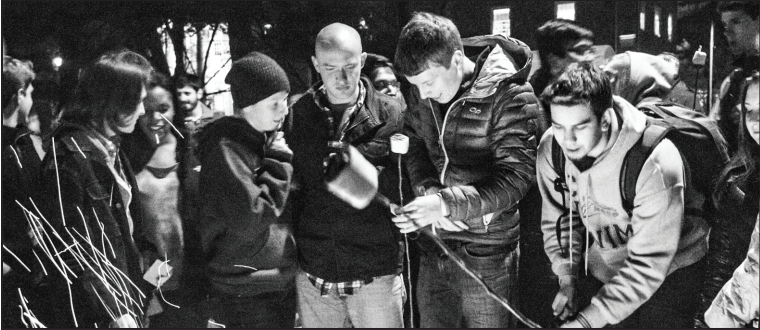 Students enjoyed the warmth of a bonfire, s'mores, Peddler coffee and a capella performances at the Energy Challenge Bonfire, sponsored by the Center for Sustainability Education (CSE).
After being postponed by a week due to rain, the bonfire was held on Morgan Field on April 5 from 8 p.m. to 9:30 p.m. According to Lyndsey Lyons, assistant director of the CSE, about 150 students came to the celebration over the course of the night, with a peak crowd of roughly 80 people.
This event was part of the Energy Challenge, and provided students with an activity that did not require the use of energy while enjoying the outdoors.
The event also commemorated Earth Hour, Earth Hour an annual, worldwide movement organized by the World Wide Fund for Nature (WWF) that encourages individuals, communities, households and businesses to turn off their non-essential lights for one hour. According to the WWF, more than 7,000 cities and towns across 152 countries and territories switched off lights for the Earth Hour in 2012.
Students who attended the event appreciated the opportunity to socialize in a relaxed and open environment.
"I do think Dickinson should have more of these events because it's a good way to get people out of their dorms and their normal habits. It was a bit cold outside but it was a nice place to socialize," said Claire Jordy '17 who attended the event.
Mackenze Burkhart '16, who organized the event, was pleased with the turnout.
"I thought the event went very well. It was awesome to have such a great turn out, I think people really enjoyed it," she said.
The Energy Challenge officially ended on April 7, and the final results will be announced on April 11 at Relay for Life. According to the most recent update of the Energy Challenge provided by CSE, Conway was the first place winner among gas-heated buildings and McKenney was first place among electric-heated buildings in the competitions between the 15 residential halls. The residential halls reduced energy consumption by 18528 kWh, CO2 by 21481lbs and saved $1852.76 by the end of the second week of the challenge.