Dickinson Softball Wins Six Straight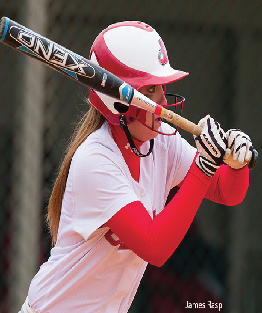 The Dickinson softball team wrapped up their season on a six game winning streak. After sweeping Franklin and Marshall last week Coach Richwine's squad won four more, sweeping Juniata and Frostburg State. On April 24, Dickinson won 12-4 in six innings and 12-4 in five innings against Juniata. On the 26 the Red Devils beat Frostburg State 4-3 and 16-12.
In game one against Juniata, Dickinson scored early and often. After posting two runs in the bottom of the first inning, the Red Devils would bring home four runs in the fourth and fifth innings and capped the game with two in the sixth. In the latter half of the doubleheader the team again put up big numbers.
Nicole Piet '16 hit a two run RBI single in the bottom of the first. Dickinson was ahead 5-4 in top of the fourth before scoring five runs in the bottom half of the inning, which put the game out of reach for Juniata.
Eight different Dickinson players recorded at least one hit on the day. Stacie Maring '16 recorded two hits on the night and added five walks to score a total of seven runs for the Red Devils. Pitchers Cassie Blyler '16 and Micki Crouch '16 both earned wins for their efforts on the mound while Chelsea Homa '14 came on in relief in both contests.
Against Frostburg State the Red Devils pulled out a close win in game one before blowing out the Bobcats in the nightcap. In the opening contest the Red Devils won thanks to a big seventh inning. Maring led off the inning and scored on a Casey Ditzler '16 single. Grace Edelson '16 and Nicole Piet would account for the other two RBIs with a respective double and single.
To complete the sweep the softball team would go on to score eight runs in the third inning of game two. This was accomplished through five hits as well as four others reaching on walks. Frostburg State kept it close, scoring 12 runs of their own but the Red Devil offense was too much to overcome.
Maring led the Red Devils with three hits. Six other Dickinson players tallied two hits apiece including Becca Garlinger '15, Lindsey Zwecker '17, and Michelle Orden '17.  Homa would go the distance for the complete game win in the opening game with seven strikeouts. Micki Crouch had three strikeouts in game two.
With the six straight wins the softball team improved their overall record to 14-20. At 6-10 in the conference, the Red Devils finish in sixth place.