Meal Plans Explained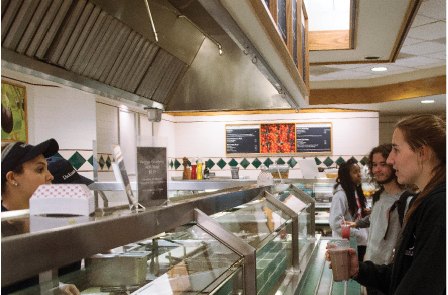 If the new changes implemented to Dickinson's meal plans still seem confusing, Director of Dining Services Errol Huffman has a simple piece of advice: look to the stars. Specifically, go to any of the campus' retail restaurants and look at the menu boards for items marked with black stars. These items are the "meal exchanges" developed as part of Dining Services' efforts to increase value in students' meal plans.
"Each meal exchange includes an entrée, a side, and a beverage," explains Huffman. "The juices at the Underground and new Juice Box are [from] a clarified Huffman."Dining Dollars cannot be spent in the Devil's Den or bookstore. We want students to spend it in cash operations facilities like the Quarry, Biblio, Underground, SNAR and the Kline Juice Bar."
When asked about the positive and negative feedback he has received over the past weeks, Huffman remarked that he has heard both reactions: "The napkins on the caf board have been positive," he notes. "I did see some tweets saying that people had to wait a long time for sandwiches at the Quarry, but people are amicable once they realize we're adjusting, too."
The student and non-student workers employed by Dining Services are learning to work with a different set-up, including changes in traffic flow at the Quarry and an increase in the number of student workers. James Shuman '15, who works as a Purple Shirt, commented on these issues, stating that "While the new changes are good in theory and have a better structure, they have made some things a bit more complicated, like the Flex Plans. There are also now fewer options in the Snar, and the lack of an automated system in the Quarry has made things a lot slower."
For the most part, however, the responses have been mostly positive. First-year Noah Berger stated, "I don't find the system confusing at all. It has been easy for me personally to understand, and I have been able to get any kind of food I want." Huffman, remarking on the process of adjusting to these changes, added, "This is not a broken Dining Services. I'm very fortunate to be working with an excellent culinary team and staff."
Students are encouraged to ask Huffman and his team questions at http://www.facebook.com/DickinsonDining, or by using the Twitter hashtag #dsondining. They should also read the meal exchange descriptions available at each dining area.