Vigil For Conflict Victims
"[J Street U] is dedicated to finding a peaceful two-state solution to the Palestinian-Israeli conflict."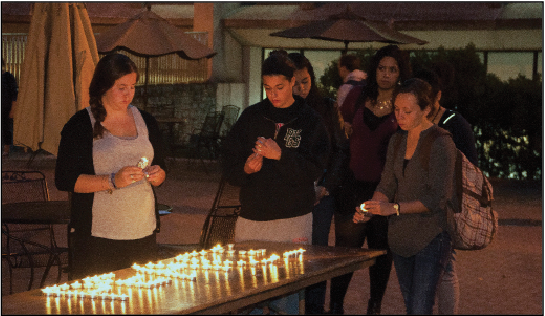 On Tuesday, September 16th, the newly formed student organization J Street U held their first event of the year: a "Vigil for Peace." Held in honor of the victims of the ongoing Israeli-Palestinian conflict, the vigil was also sponsored by the Muslim Student Association (MSA), Hillel, The Wheel and Chain Society, Newman Club and Students for Social Action.
Emily Katz, Co-President of the club, said, "J Street U is the campus branch of J Street, which is a political organization dedicated to finding a peaceful two-state solution to the Israeli-Palestinian conflict through American diplomacy." Although the organization was formed in the fall of 2013, Katz said that members of the club "felt that Dickinson needed to have a productive way to discuss what we all feel is an important and relevant issue on campus, especially given Dickinson's emphasis on a global and useful education."
At the vigil, testimonials from an Israeli as well as from a Palestinian were read, and students from the participating organizations read poetry and prayers. To close the vigil, all students read the poem "We Remember Them" by Sylvan Karnes and Rabbi Jack Riemer in unison.
Mansoor Ghoto '15, who read verses from the Qu'ran as representative and President of the MSA, offered his comments about the vigil. According to Ghoto, "This event was definitely needed on campus. I think that the grief for the lost was the driving force behind the vigil, no matter what religion you are."
When asked about the reason behind the vigil, Katz commented, "We thought that the best way to bring people together was by focusing on the very real human aspect of the conflict, rather than on the politics." She added that "We hope to remind people that this kind of cyclical violence needs a permanent solution, rather than just an indefinite ceasefire, and encourage them to join us in taking action towards finding a two-state solution."
Celeste Hippolyte '15 commented, "I liked that the focus was not on politics, but on the community. The idea of peace is non-negotiable on all sides, and that is what this vigil accomplished: it brought both perspectives together."
In terms of future plans for the club, Katz commented that "We will have additional educational discussions, as well as events that focus on reminding our campus community and the larger political community that it is imperative to continue to work towards a permanent solution that will benefit both Israelis and Palestinians."