Kaufman Museum Features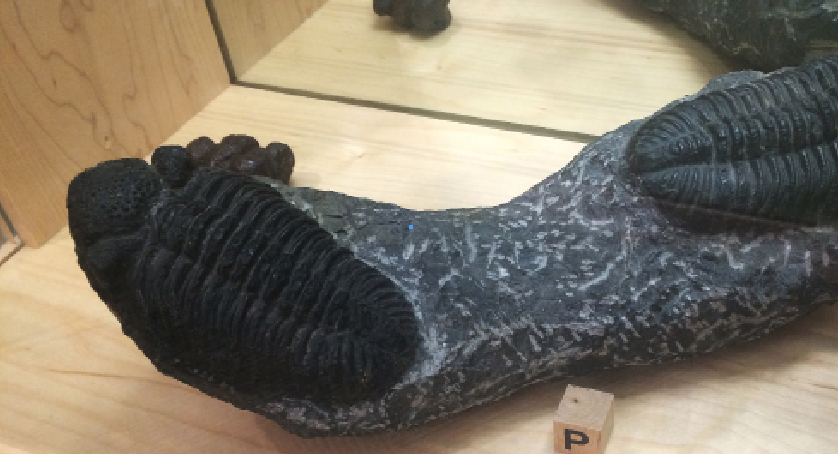 A number of interesting displays and exhibits are scattered around the Dickinson campus, and one of the newest and most interesting is the Rennie-Rilling Museum of Earth Sciences in Kaufman Hall.
The Rennie-Rilling Museum, located near the Department of Public Safety's office, named after David Rilling and George Rennie, both '62, was built a year ago to formally house a teaching display. The museum is a concentration of the other display cases in the building, which are geared more towards general perusing and has been evolving over the past couple of years to feature various exhibits about paleontology, biodiversity, and environmental studies as well as featuring local geology, said Jeffrey Niemitz, Professor of Earth Sciences. In the museum, there are brief descriptions about and specimens of sea level change, geologic time, evolutions of the oceans and atmospheres, climate change, and diversity of life.
"I'm very flattered that they added my name to it," said Rilling, a biology major who went on to be a doctor. He added, "my senior year, I took a few geology courses, and I've always been interested in geology. I think the museum is great. Very beautiful."
"The whole department [contributed] to putting the display together," said Niemitz. The general themes of the museum include deep earth, earth materials, earth history and paleontology. The mean age of the specimens is around 2.5 billion years old, but there are some stromatolites, rocky masses formed by growth of bacteria, that are as old as three billion years and are still in nature today.
Some information that you can glean from the museum is that the oldest specimen on display is over three billion years old, and the most rare rock on display is the banded iron formation and the oldest fossil on display is a dinosaur tooth.
Two instrumental people in the creation and maintenance of this display are Niemitz and Marcus Key, Professor of Natural Philosophy. Niemitz's focus is on the local and environmental sides of the exhibit while Key focuses on paleontology and biodiversity.
Specimens used for display in the exhibit were collected all over the world, but a large chunk were collected in and around Carlisle, said Niemitz. He added that the environmental studies department drilled water wells at the Dickinson College farm in order to collect ground water and karst, irregular limestone carved by sinkholes, fissures, underground streams, and caverns.
The target audience of this display can be anyone. You can come in with no knowledge of environmental terminology or issues and understand what's going on. Local elementary and high school kids have come to see it, and there are other parts that are used for teaching purposes for students of environmental related majors.
The exhibit is consistently evolving to feature different artifacts and information. For instance, Ben Edwards, Professor of Earth Sciences has a setup on volcanoes and deep earth education, which is expected to stay for a while, if not forever. Volcanoes are always a relevant topic, as they are active all over the world, Niemitz explained.
In the coming weeks, there will be a display on earthquakes. The school owns a seismograph and will be displaying data received on a monitor within the museum, according to Niemitz.
Some of the specimens on display are three billion years old and are part of Dickinson's extensive collection that was collected both by Dickinson's own faculty and also by trading with other institutions. Some of the specimens are "Smithsonian grade," Niemitz said.
Niemitz said that one thing that students might not be aware of is that our current terrestrial environment now could have been one of various different environments in the past, including mud flats and lakes, deltas, desert, deep ocean environments, volcanic activity, and near glaciation. This depends on the time in history. Certain times in history may have lent themselves more to higher or lower ocean levels or temperatures, which could have caused any one of the aforementioned conditions.
Rilling came to Dickinson Sept. 30 to give a talk entitled "Innerspace: The Fascinating 3D World of Microminerals."
For more information, you can visit the museum in Kaufman Hall.