SLG Captures Dickinson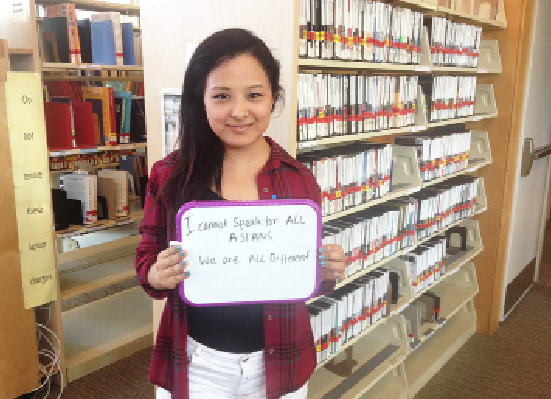 Over the past two weeks, the Sigma Lamda Gamma national sorority has been taking pictures of various campus students as part of their "I, Too, Am Dickinson" photography project. Inspired by Harvard University's project of the same name, the group, according to member Sheraldine Francisco '16, aims to "bring awareness to the various struggles faced by students of different ethnic, sexual, and religious identities." Francisco, who played a larg role in the organization of this project, said that "we want to bring attention to these issues on campus, so that we can have the chance to de-stereotype students."
Nicole Price '15, another member of this sorority, stated that this project began "for an event that our sorority throws every year called Principle Day. This year's Principle Day was centered around our fifth principle – morals and ethics." The project, which captures images of various students on campus, offers "an opportunity to share a piece of who [the students] are that isn't easily recognized on surface-level, but is still important in their own eyes," explains Price.
Adding to this, Francisco said, "We want to create a safe, comfortable place for students to express how they are feeling. This project is not generated in any way by anger or unfair treatment; it simply offers the opportunity for students to de-stereotype themselves."
In terms of they goal of this project, Price added, "we want the Dickinson campus to gradually become more aware of the diversity in opinions and experiences that people have at this institution." Through such awareness, Price believes "that [students] would start breaking boundaries and stereotypes that are unconsciously reinforced."
The sorority will host similar projects throughout this year, also under the theme of morals and ethics, namely their annual Women Exposed project. This year's theme for the project will be Queer women.