Quarry Displays Student Art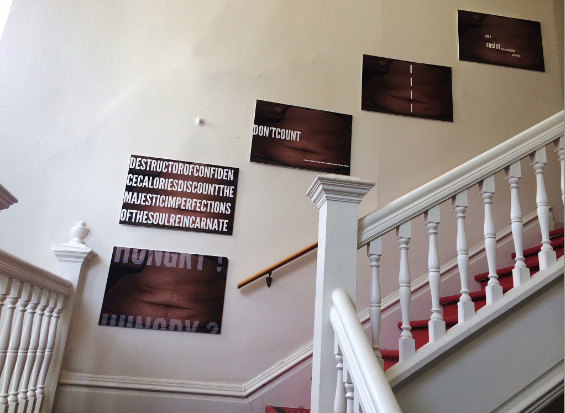 Artwork in the Quarry is challenging students to think twice about their body image. Fabian Hernandez '15 says the inspiration for his piece was his own experience with self-image. He explains, "I was really not eating, my diet and my health were really bad because I was trying to look a certain way, so when this project came about I was like 'Oh, perfect. I can talk about myself and what I went through to challenge other people on campus in regards to diet and how they see beauty.'"
Dickinsonians agree that negative body image is an issue among most college students. According to the National Association of Anorexia Nervosa and Associated Disorders, 95 percent of those with eating disorders are between the ages of 12 and 26. Recognizing that body image and eating disorder related problems are prevalent among college students, Fabian Hernandez '15 dares Dickinsonians to accept their self-image through his text-based artwork.
All five images in Hernandez's "Desire(a)symmetry" contain the same close-up photograph of his stomach, with a different series of words, phrases or white dashed lines on each print. One print says, "Don't count." Another reads, "Don't resist chocolate chip cookies."
The piece was an assignment for Prof. Anthony Cervino's art class, which Hernandez took in the spring of 2014. Hernandez says the project "was a way of using text-based work to cater to the community at Dickinson regarding diet and image." According to Hernandez text-based artwork "is using language, words and letters in a creative fashion to make people rethink a concept, idea, an emotion, an event, etc."
Hernandez's work sparks mixed reactions among Dickinson students. Rachel Kass '15 says, "I think it is odd to have that in an eating establishment. Thoughts about eating are really personal and you don't know what's going to trigger someone. It might have adverse effects, even though the overall message is positive."
Heather Geist '15 disagrees. She says, "I think the message is that you should be confident in your body and what you look like and don't obsess over food because it is not a defining characteristic of who you are as a person."
On one thing Kass and Geist agree: the work can provoke conversation about body image on campus. Kass says, "The piece can bring up a dialogue about body image and self-image, which is really important, especially for our age group."
Geist says, "I think having something up there like that for people who may be struggling with body image issues is a good tool for initiating a conversation….Things like this are good gateways to conversation and seeking help."
Hernandez says that art is "how I vocalize what I know and my experiences….I plan to continue my art after college. I want to incorporate social justice and other important social messages."
Visit www.famofaux.com to view Hernandez's artist statement and the rest of his work.