Students Bust a Move for Literacy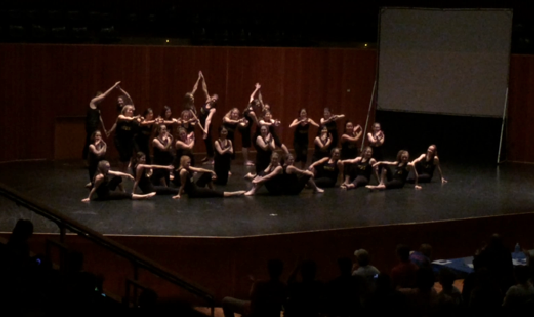 At the Lip Sync competition sponsored by Kappa Kappa Gamma (KKG) and Kappa Sigma, there were dances both choreographed and comical, and some groups even did the worm.
The event, which lasted two hours and filled nearly every seat in ATS, was won by Pi Beta Phi's "Cherubs," their newest new member education class, with the football team coming in second.
The competition benefited KKG's national philanthropy for literacy, Reading is Fundamental, says Kappa Sarah Baylis '15. The event raised $2,000 that will go straight to Reading is Fundamental.
Students from various sororities, fraternities, sports teams and other on-campus clubs and groups took the stage to show off their dance moves in support of Reading is Fundamental.
"Football was my favorite," says Mary Gorman '17 of the performance that featured elaborately choreographed dances as well as pure comedy, such as men dressing as women, running across the stage, and jumping into another man's arms. Many others share her opinion, as evidenced by the crowd cheering the loudest for football that night.
Football was one among many groups featuring guys taking their shirts off, which always drew a loud cheer from the crowd. The more out-of-the-ordinary and creative the performance, the more excited the crowd became. It appeared to be in part a popularity contest, with some of the loudest cheering happening as the group was being announced and had yet to begin dancing, while other cheering was a direct result of the performances themselves.
Additionally, some performances were unprepared and sloppy to the point of being booed off the stage. "We were terrible," says Evan Weiner '18 of men's lacrosse.
Based on its reactions, crowd favorite performers were football, baseball, club soccer and club lacrosse.
Each group brought their own mix tape of clips of songs mashed together to dance to.
The event was judged by campus figures such as Officer Jonathan Mann, economics professor Anthony Underwood and women's basketball head coach Katherine Bixby.
Some groups spent a lot of time preparing for the Lip Sync, while others threw their performances together last minute and still succeeded. "We had four or five one-hour practice sessions and practiced some more on our own," says Gorman of Kappa Alpha Theta. Anne Maffey '18 of Reserve Officers' Training Corps (ROTC) says, "We found out Tuesday evening that we were in it, and we practiced for three hours that night and one hour [before the show] Wednesday morning."
"My favorite part of this whole process was bonding with our new member education class and becoming closer as friends and sisters," says Alex Stagliano '17 of Kappa Alpha Theta.
For more information about Kappa Kappa Gamma's national philanthropy, Reading is Fundamental, contact the Kappa Philanthropy Chair Bryn Nolan at [email protected]