Sorority Recruitment Switches Seasons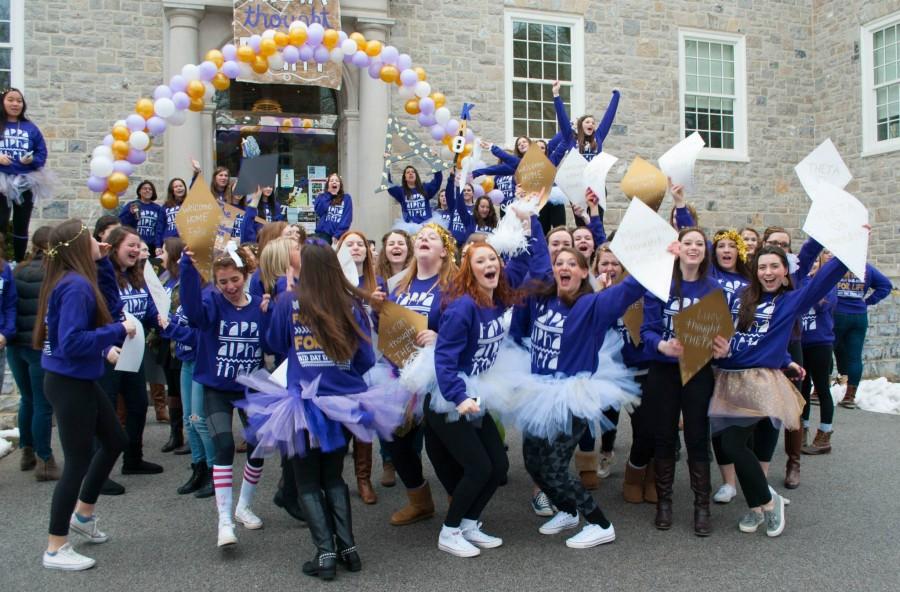 Every year sophomore girls come back to school and participate in Dickinson College's sorority recruitment. Although fall recruitment took place during this academic school year, changes were made in the Panhellenic Council: first-years are now able to participate in Greek life during the second semester as well. The recruitment process began only two days after classes started. This time around though, the process was faster and less spread out, as it began on Wednesday and ended on Sunday with Bid-day.
Leading up to this change, there were many who were unsure, but as the days got closer to the recruitment process, many began to feel the excitement in the air. "I am really excited to be a part of Panhel this year," said Katie Wenger '16, a member of the Panhellenic Council for spring recruitment. "I am happy to be able to help these first-year women get involved in something that I believe is really worthwhile. Being involved in Greek life has allowed me to make lots of friends and connect with women both in my own organization and in other organizations as well. I am excited that first-years will have this opportunity from now on."
There were an impressive number of women who signed up to take part in the process, although the numbers were not much different from when the sophomore and juniors were going through the recruitment process. The interest shown in Greek life can be seen from the approximately 166 girls going through spring recruitment. Similarly to Wenger, many sophomores who just went through this process last semester are taking this change in the recruitment process in a positive manner. "It's exciting that we will get first-years in our Dickinson career. I think Greek life provides an awesome way to build community and meet other women who can really help you along your four years at Dickinson" said Julianna Barr '17. Another sophomore, Cassie Masciale agreed: "I think it will provide a more conducive social environment for all grades at Dickinson as well as help with our retention rate."
First-year Stuart Lemay gave her positive viewpoint on the change as well. She said, "I think that rushing as a first-year is a great change made to the Dickinson Greek System. For some students adjusting to life at college is hard and making friends is even harder. With rush in the spring it is easier to find a group of girls that support you and are constantly there for you, making the transition easier into college life. " Lemay along with other first-years enjoyed the process as a whole, as it is a chance to interact with upper-classmen in a more personal way.
Yet having recruitment in the spring semester has presented a unique set of challenges. Those on the Panhellenic Council have had to alter their schedules due to the snow and ice, as well as reserve multiple locations for recruitment and Bid Day events in case the weather does not cooperate. The process of transitioning the Panhel Executive Board members and of training the Rho Gammas was a bit different this year because of the timing of recruitment. Wenger is a member of the Panhel Executive Board and said, "It has been stressful at times, but Rachel, Jackie, Sarah and I have really enjoyed working together to make sure this process runs smoothly. We just had to dive in and get to work right away, and so far it has been quite rewarding."