Challah Fights for Hunger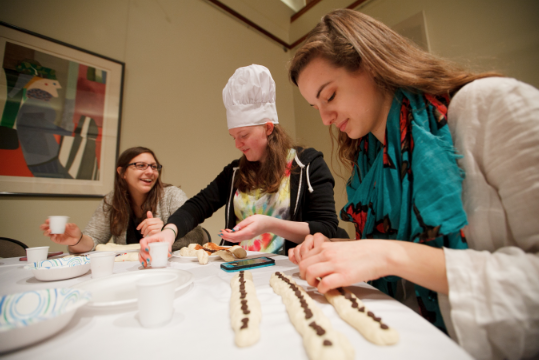 Every other week this semester, students can make challah bread while fighting hunger.
Dickinson College recently became the 72nd chapter of Challah for Hunger, according to Tracy Wolf '15, an engagement intern at the Asbell Center. Wolf describes the organization as a "national non profit organization that has chapters on college and university campuses around the country and internationally." She adds, "The goal of the organization is to bring people together to bake challah, a traditional Jewish bread, donate the profits from selling the bread to organizations both local and national that advocate for social justice, specifically food and hunger related issues, and to educate people about hunger."
Each event is a two-day process, says Wolf, and is entirely facilitated from start to end by Dickinson students. "One day for braiding and baking the challah, and a second day for selling it. On the first day, students sign up for shifts to bake, braid and package the bread in the kosher kitchen in the Asbell Center for Jewish Life." She adds, "This process goes on for hours, so students can choose to sign up for as many shorter shifts as they would like, or can stop by the Asbell Center to help."
The next day, the challah bread will be available in the basement of the HUB for five dollars a loaf until they sell out. The proceeds from the sale are divided between Mazon: A Jewish Response to Hunger, a non–profit organization that addresses hunger, and a local organization that they are still in the process of picking.
"Last Thursday was a special week where we brought in the CEO of Challah for Hunger to celebrate Dickinson becoming an official chapter of the organization, and students got to braid and eat their own challah for free," says Wolf. The event last week saw about 30 people participate.
According to Wolf, "Challah is a traditional Jewish braided bread that is made and eaten on Shabbat (the Jewish Sabbath) and on other special holidays and occasions."
Emily Lopkin '15, who attended the event last week, said, "I thought it was a really great event for our campus. The experience of braiding the challah was new to me and it was a lot of fun. The Challah for Hunger representative gave a great introduction to what the organization was and why she joined and it really inspired me to think more about the issue."
Michelle Orden '17, Co-President of Challah for Hunger with Yael Farber '17, described the process of making challah, saying, "First, we mix the wet and dry ingredients (flour, water, sugar, oil, yeast and salt) in a large bowl. Next we knead the mixture for about six minutes while adding more flour to create a tasty dough. After kneading, the dough must be covered in a warm moist towel for about an hour in order to rise. After the dough has risen, our volunteers braid and add toppings (this is the best part!). Before baking, we cover our challah with an egg wash to add flavor and a shiny glaze. The challah takes about 20-30 minutes to bake. Finally, we let the challah cool down and enjoy!" She added, "The challah baking process is pretty time consuming, but very fun and rewarding."
Wolf agreed, "It is really delicious, and we make a variety of types of challah with different toppings such as cinnamon raisin and chocolate chip."
Challah for Hunger's next event is Thursday 2/19 where they will be baking challah in the Asbell Center, and on Friday 2/20 they will be selling it in the bottom of the HUB.
Leave a Comment