Community Rallies to Aid Crossing Guard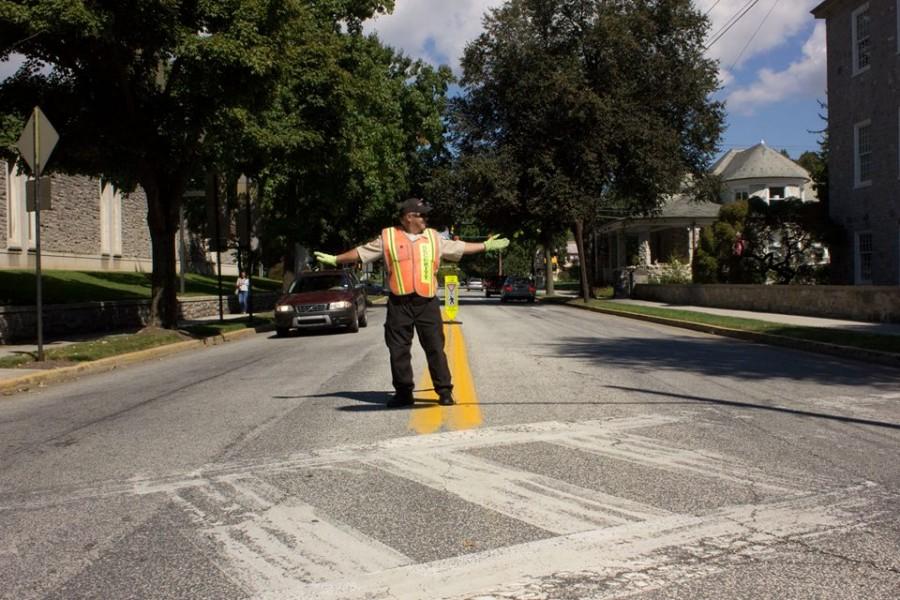 Lizzy Hardison '16, Co-Editor in Chief
October 13, 2015
As crossing guard Rob Stone recovered at the Carlisle Area Hospital on Tuesday, Oct. 13 after suffering a medical emergency earlier that day, members of the Dickinson community expressed support for a beloved campus figure by collecting well wishes and crowdsourcing donations to alleviate his medical expenses.
Stone began to exhibit signs of physical distress while directing traffic at the College St. crosswalk between the HUB and the Academic Quad just before noon on Tuesday. According to Dee Danser, chief of Public Safety, a staff member and students who witnessed the incident called 911, and Stone was transported by ambulance to the hospital.
Later that afternoon, Student Senate and the Office of Student Life and Campus Engagement invited students to sign a Get Well banner for Stone in the upper level of the HUB. In an all-college email, President Nancy Roseman invited the community to bring get-well cards to DPS or the Student Life office, or to email their messages to [email protected].
Donteng Kuang '18 launched a GoFundMe fundraising page to collect donations for Stone's recovery. Kuang set a $1,000 goal for the fundraiser, which had collected almost $550 from 27 donations by 6 p.m. Tuesday evening.
"I just felt like we ought to show the people we care about that we're there for them," Kuang said. "I feel welcome in this community and I wanted to take the initiative to give back to one of our members. Hopefully, the crowd funding can help remedy the costs associated with [Stone's] medical care and be seen as a way of saying 'thanks' from the Dickinson community."
Danser said that the Department of Public Safety spoke with Stone as he recovered on Tuesday afternoon.
"He said he is feeling better… [and] he appreciates everyone's support and well wishes," Danser said.
Danser could not confirm what type of medical emergency Stone had suffered. She said that DPS would assign a part-time employee to Stone's post until he has fully recovered.
Both DPS and the Carlisle Police Department responded to the incident on Tuesday, and an ambulance arrived at the crosswalk at 12:01 p.m. Stone was conscious as he was loaded into the ambulance.
When the ambulance arrived, students began to speculate that Stone had been hit by a car. Danser denied these reports in a statement on Tuesday afternoon.
Hannah Therrien '16 and Gloria Huse '16 witnessed the incident while crossing College St. from the Academic Quad.
"[Huse and I] were waiting to cross the street and [Rob] was standing there as usual, and then he bent over all of a sudden; we thought he had dropped something on the ground because it looked like he was looking for something, but he was holding his heart," said Therrin. "A woman, I think a [professor], ran up to him and asked if he was okay."
Therrien said that Huse "immediately called DPS and 911."
After the incident, students expressed sadness at Stone's accident.
"I felt really bad…. I was in total shock," Therrien said. "It was really sad because he's someone that we all see everyday, and he is always is so nice and he smiles and says have a good day…. I hope he's okay."
Jessica Sykes '16 and Katie Lasswell '17 contributed reporting to this article.