Comedian Draws on Experience in Israeli Army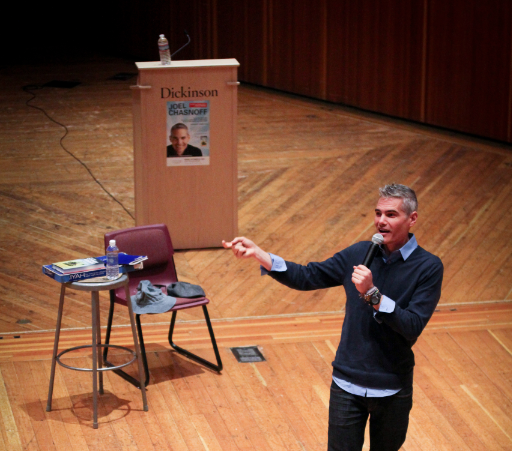 Margot McCrillis '19, Staff Writer
October 29, 2015
Jewish comedian Joel Chasnoff cracked jokes about his time in the Israeli army at a free standup show in ATS on Friday, Oct. 23.
About 150 members of the Dickinson and Carlisle communities attended the 9 p.m. show. Hillel and Asbell Center for Jewish Life planned the show as part of a larger initiative to encourage campus-wide dialogue about Israel and current conflicts surrounding the Jewish state.
The Dickinson improvisational troupe, "Run With It," opened the show with scenes and musical improvisation. Matt Breman '18, treasurer of Hillel Board, then introduced Chasnoff.
Chasnoff began with audience participation and standup about Jewish life and his experiences in Israel. He finished the show by performing as three characters with different points of view about Israel and the meaning of Zionism, and answered questions as those characters and as himself. A book signing for his new book The 188th Crybaby Brigade, which details his experiences in the Israeli army, followed the show.
"What I look for in an audience is a group that's willing to be engaged, listen and follow the jokes," Chasnoff commented on his experience at Dickinson.  "It felt like a smart crowd…  They were honed in. It was a great show, and I'd love to come back."
"Joel brought [attention to] a lot of issues, and I feel that we can start a conversation… He was one of the funniest comedians we've ever had on campus," said Breman after the event.
Chasnoff grew up in Chicago, attended Orthodox Jewish School and went on to be a fighter for the Israel Defense Forces (IDF). After finishing his service, Chasnoff began his career as a comedian and public figure. He has performed at Jewish community events, conferences, charity events and other venues throughout the country. According to his website, he has also performed in nine countries and participated in two off-Broadway shows. He joined a USO comedy tour in Japan and Korea and has appeared on late night Israeli television shows.
Chasnoff now tours the country, performing from a set of four events. These include a sixty-minute standup show, a talk about his service in the IDF followed by a question-and-answer session, "Israel—What's the Story?" and a Comedy in residence Weekend. "Israel—What's the Story" is an interactive workshop meant to spark audience conversation and interest in Israel and the complex issues surrounding it. Much of Chasnoff's work focuses on enlightening his audiences about contemporary Judaism and Israel, and leaving them with a foundation on which to build future dialogue.
Hillel chose Chasnoff to appear on campus as part of a wider effort to increase the center's programming and outreach that is made possible by new funding from several foundations, according to director of Asbell Center Dr. Ted Merwin.
"So many Jewish students at Dickinson feel a strong connection to Israel, and yet don't necessarily know much about it," said Merwin. "It's important for everyone, Jewish and non-Jewish, to understand what's going on in Israel and to learn about Israeli culture and society." He also spoke positively of an increase in courses at Dickinson focusing on Jewish and Israeli culture and history.
The Asbell Center and Hillel will also be hosting the Y Theatre Project Jerusalem's performance of "Take Away" on Nov. 5 in the Cublico.
More information about the Asbell Center, Hillel and their events is available on Dickinson's homepage. For more information about Joel Chasnoff, visit joelchasnoff.com.