Student Art Comes to Kline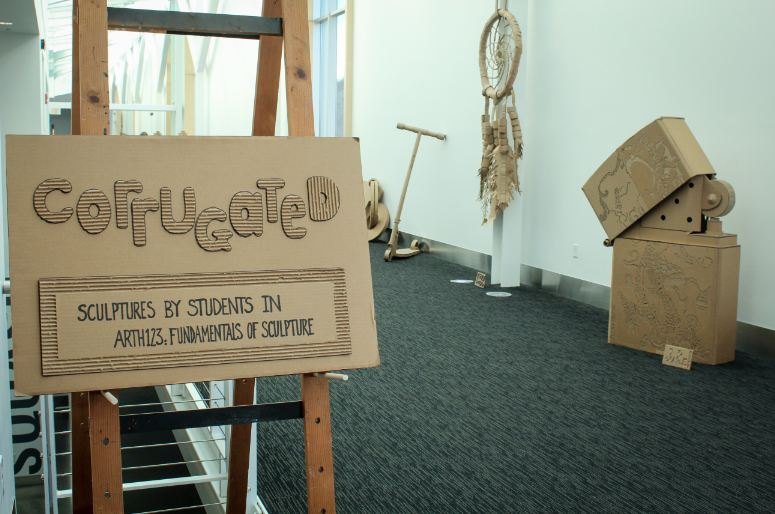 Caitlin Klockner '16, Contributing Writer
November 5, 2015
When students walk into the Kline Center lobby they see the Juice Bar, TVs, tables and chairs.  However, since Nov. 2, the space has been decorated with a scooter, a lighter and many more student-made sculptures, part of an effort to bring student artwork to the campus's athletic hub. 
Paul Richards, chairperson of Physical Education and Aquatics director, worked with the Art Department and Athletics Department to display student art in the Kline Center lobby. Richards, who is also the head coach of the men's and women's swim teams, said he was motivated to bring student work to athletic spaces after seeing a student exhibit in the library. 
"I went to the library to see one of my swimmer's exhibits and as always I was really impressed with the creative things that Dickinson students do," Richards said. He asked to have the work displayed in the Kline after the exhibit concluded in the library.
Richards thought it was important "for the athletic department to show that we are not one-dimensional, but that we are engaged in the rest of the community and that we…recognize students for what they do outside of athletics."
Richards realized that the Kline center "might [be] one of the best locations and a location that gets a lot of traffic," making it an ideal space to display art. Richards said that he emailed Anthony Cervino, assistant professor of Studio Art, and presented the idea to the senior staff of the Athletic Department.
"They were all on board and thought it was great," Richards said. 
Cervino, whose Fundamentals of Sculpture students made the corrugated cardboard sculptures now on display in the Kline, is enthusiastic about bringing art to all corners of campus.
"What is so exciting about showing student sculptures in spaces like the Kline Center is that it underscores that art isn't just found in rarefied spaces like museums or art galleries," Cervino said. "I quite like the idea that all of Dickinson's public spaces are potential places to find art!  Perhaps, the more we show art in surprising locations the more our community will come to expect art everywhere."
Richards said the exhibit will be in the hallway in the new part of the Kline going to the old Kline. Richards wants to expand the art displays to place work of different mediums in different common spaces across campus.
"We have a lot of really beautiful lobbies in our buildings all over campus," Richards said. "Let's use those areas for displaying student artwork and showcasing what our students do. The college gets to see and experience all this creative energy from the students, and, at the same time, we all benefit from all being exposed to it."