Allison Hall Furnished to Expand Lounge Space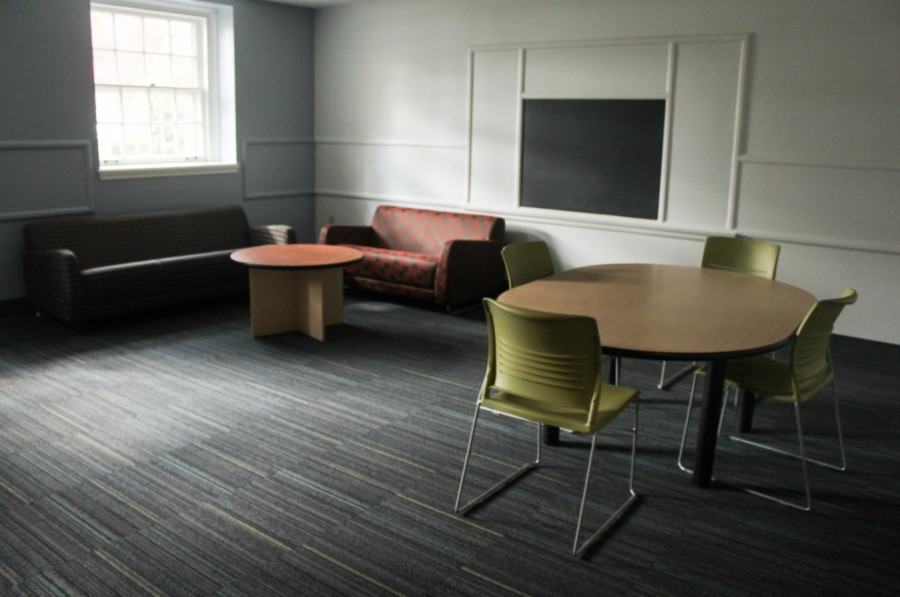 Austin Morgan '19, Staff Writer
November 12, 2015
With the arrival of the largest first-year class in Dickinson College's history, Allison Hall underwent renovations, including paint jobs and new furniture, over the summer to create additional social space on campus.
"With the larger freshmen class, a number of dorms lost their lounges due to the need to convert them to bedrooms," Associate Vice President for Facilities Management Kristen Kostecky said. "The ground level of Allison had a number of former classrooms that were underutilized so our scope was to make them more functional."
The renovation was not considered a "significant one."  On the ground level, "work consisted of asbestos abatement, paint and carpet," Kostecky said. Along with these changes, they "provided furniture… a ping pong table and flat screen TVs [as well]" said Kostecky.
In addition to the ground level changes of Allison Hall, a few other renovations took place throughout the building. Kostecky said that "TVs and more furniture" were provided in the community room, along with "a card reader and signage… to the building."
Formerly Allison United Methodist Church, a 33,000 plus square-foot limestone building located at 99 Mooreland Ave. was acquired by Dickinson College in early 2013 as part of the college's efforts to expand and improve its facilities, according to an article published by Dickinson College on Jan. 22, 2013. The building was purchased for $1.7 million by Dickinson College, according to a Jan. 23, 2013 article by The Sentinel.
For the most part, the changes made to Allison Hall are going well, according to Director of Event Planning and the Holland Union Building Dottie Warner, but there is one issue still in need of attention, Warner said.
"Handicap accessibility between the floors is not easy, and in some cases, not possible…access into the lower level [Community Room] is possible; however, if you wanted to move from the lower level to the first floor, you would have to go outside and enter through another entrance."
In addition, Warner said, "handicap accessibility between the first and second floors is non-existent…. [But,] aside from the handicap accessibility issues… the space has been well received and is getting used more and more as students find out about it."
In the future, Kostecky said Facilities hopes "to do a more comprehensive renovation in Allison," but now "there is no other work scheduled for the immediate future."
Many activities and events are scheduled to take place in Allison Hall in the coming months. Information for these events can be found on Dickinson College's online event calendar.