"Who is a Dickinson Experience For?"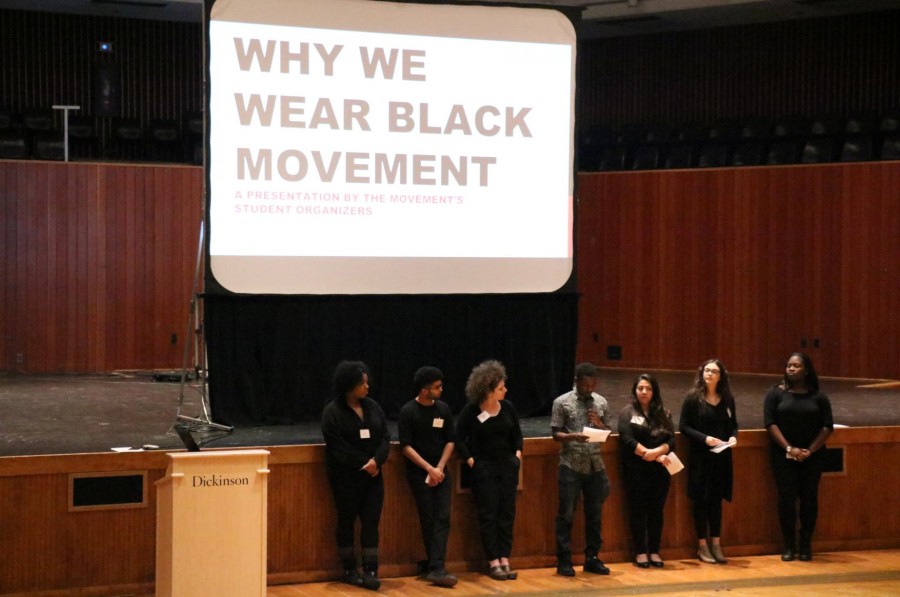 Rachael Franchini '19, Associate News Editor
February 4, 2016
Members of the Why We Wear Black Movement, who organized the Blackout protest during the 2015 Thanksgiving dinner and the Nov. 19 "Call to Action Dialogue" that attracted more than 700 people, released their recommendations for the college administration on Sunday, Jan. 31 at an open forum in ATS. The reforms, which the organizers called "asks," were concentrated in four focused areas of concern – training and development, student campus resources, curriculum and classroom experience and faculty diversity.
Sunday's forum attracted over 150 students and faculty, as well as members of the college's senior staff, who were able to opine, comment and respond to the demands.  Senior staff in attendance included President Nancy Roseman; Neil Weissman, Provost and Dean of the College; Joyce Bylander, Vice President of Student Life; Stefanie Niles, Vice President of Enrollment, Marketing and Communication; Bronté Burleigh-Jones, Vice President of Finance and Administration; Robert Renaud, Vice President and Chief Information Officer of Library and Information Services; Dana Scaduto, General Counsel; and Michael Reed, Vice President of Institutional Initiatives.
The forum was led by eight organizers of the Why We Wear Black Movement who presented a PowerPoint listing their demands. The group went through each focused concern and explained their reasons behind consolidating reports of alleged discrimination and exclusion on campus.
Among their recommendations were requests that administrators and officers in student organizations participate in diversity training programs; that the college hire and retain staff of color in the Wellness Center, Biddle House and Landis House; that all first-Year Seminars include a civic education component; and that departments take steps to hire and retain more faculty of color.
Janel Pineda '18, a member of the group who helped develop the asks, said that the final list of requests was formulated based off of student input from the Nov. 19 Call to Action Dialogue.
"The student organizers reviewed the hundreds of notecards from last semester's discussion in ATS, and grouped them based on thematic content. From these groups, we developed four comprehensive categories, which were: training and development, student campus resources, curriculum and classroom experience and faculty diversity," Pineda said.  "Before leaving campus in the fall, we selected the topics we were most interested in researching, and formed small groups that would focus on developing the asks regarding said topics. We worked on this over winter break, and upon returning to campus, met to discuss each group's proposal of asks, and to solidify the asks."
Throughout the presentation, students voiced concerns and reactions to the list of asks, to which members of the senior staff responded.
Weissman responded to concerns about faculty training, hiring and curriculum.  Helena Jeudin '17 commented on the optional diversity training sessions held throughout the year for faculty, asking why they were not mandatory. Weissman said that requiring the faculty to attend the trainings seemed "like a perfectly reasonable thing to do."
"Faculty generally understands the importance of making the community inclusive," Weissman said. "There is no faculty on this campus when asked about the importance of diversity who would say 'It's not important.'"  He also informed those present that the committee takes the issue of inclusivity on campus very seriously.
Reed also responded to voiced concerns, stating that "I don't think there's anything you've written down here that we haven't thought about… these are important, they're a start and we have work to do in a lot of areas."
Students perceived the forum as generally beneficial and well organized.
"I thought all the demands were pretty reasonable and the faculty were fairly receptive to them," said Stephanie Czmar '19, "It's just a matter of whether they accomplish the demands in a timely fashion."
In response to a discussion at the forum, Laura Slotpole '19 said, "the biggest thing that I took away from it is that it made me think about things I hadn't such as the sexual abuse policy…I'm glad I went because it opened my eyes to a bunch of issues on campus."
To read the full list of demands and to stay updated on Why We Wear Black, visit the movement's Facebook page at https://www.facebook.com/WhyWeWearBlack/.