Recruitment Rates Hold Steady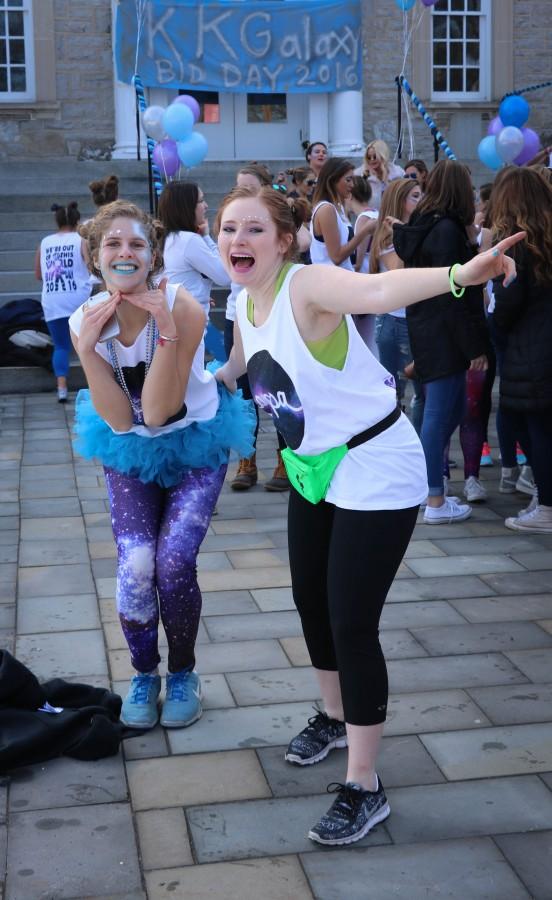 Rachael Franchini '19, Associate News Editor
February 11, 2016
Despite the large first year class and the high number of girls registered for sorority recruitment for spring 2016, the three sororities participating in recruitment — Pi Beta Phi, Kappa Kappa Gamma and Kappa Alpha Theta — had "similar numbers compared to last year" in their new member classes, according to Erica Gordon, interim director of the Office of LGBTQ Services and college dean.
"In general, we knew this year's recruitment would be different in that one of the sororities that typically participate in formal recruitment was unable to do so," Gordon states, referring to the one-year recruitment ban imposed on Delta Nu. "Beyond that, there was no 'irregularity' [in recruitment]."
Each sorority is given a "quota," which is the number of potential new members to whom each chapter can offer bids during formal recruitment. This is determined with a formula involving the number of chapters and the number of women participating in bid matching. Typically, each sorority is given a quota of 30 women for recruitment, however this year each chapter was given a quota of 40, and each chapter met this number, resulting in only slightly bigger new member classes.
Julianna Barr '17, president of Pi Beta Phi, welcomed the increase in the number of girls who registered for recruitment.
"We were so excited to see an increase in Greek Life this semester!  While the increase in women going through the recruitment process was somewhat of a logistical challenge, we were otherwise pleased with the number of women that came out and learned more about Greek organization," Barr stated.
Barr explained the changes the Pi Beta Phi Chapter made to their recruitment.
"With the large number of women participating [in recruitment], we had to rethink how we facilitate one-on-one conversations, which was challenging at first, but we adjusted quickly.  We spent a lot of time ensuring recruitment was a positive experience, which is why personalizing the experience and setting was important despite the increase in numbers," Barr explained.
Erica Marshall '17, president of Kappa Kappa Gamma, said that her sorority prepared last semester for the large influx of girls that were predicted to undergo recruitment.
"We had many conversations in chapter [meetings] about how to prepare for the huge number of girls going through recruitment, but we realized it is more of a learn as you go type of process!" Marshall explained.  "After going through recruitment, we learned that the adjustment was not as hard as we had anticipated and even with more girls going through the process than usual, recruitment ran extremely well – we had a blast working with each other as well as getting to know every girl who came through recruitment."
Similar preparations took place in Kappa Alpha Theta as well, according to Abigail Stasior '17, chapter president.
"With so many unknowns last semester, Theta's Executive Recruitment Board and our New Member Education Directors met and planned for a [large] class size by making sure we could have more sisters in attendance for various meetings," Staisor said. "In addition, we strengthened our mentoring program during their time as new members so that no one would feel lost in the shuffle."
Even though the sororities gained approximately the same size member classes as previous years, Stasior stated that Kappa Alpha Theta "[does] not regret our extra planning from last semester because it allowed us the opportunity to strengthen our New Member Education program and to make sure each and every new member feels even more valued and supported."
Additionally, Stasior attributed the "smooth recruitment [process]" to the "unwavering teamwork and collaboration from the sisters in our Chapter." She concluded that "Recruitment truly is a team effort, and not just for the chapters individually, but also for our whole Panhellenic community."
Overall, Marshall believed that recruitment was "well-handled," and she is "so happy to welcome [their] 40 new members to Kappa Kappa Gamma!"