Halo is the New Hamlet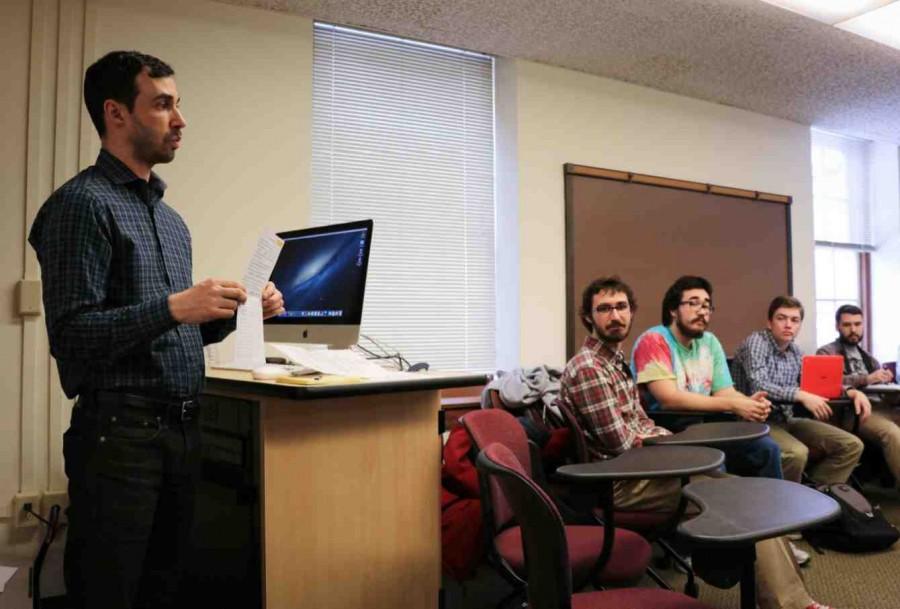 Stefani Zaharieva '19, Contributing Writer
February 25, 2016
For the first time, the English Department is offering a class about video games. The class, taught by Greg Steirer, assistant professor of English, focuses on applying methods of literary analysis to the narratives in video games.
Steirer said that he was inspired to develop the course after noticing that a growing number of English majors were writing their senior thesis about video games. However, Steirer insisted that students in his class would not engage with video games as a leisure activity, but instead read the games as literary texts.
"One of the things that draws students to this class is that they care about texts, and they want to explore them," said Steirer.
Steirer shared that getting lost in a good video game is not that different from getting lost in a good novel  – "you are sort of glued to the text." In addition, many video games follow stories and narratives, allowing students to use their literary analysis techniques to understand how video games work. And while the class includes many English major students, there are also students from other majors, including math and computer science.
For the first few weeks of class, students studied the sociology of play. Each week they have to play a game at the media lab, and then they talk about the game. The class is divided into three sections: firstly, it is about applying narrative approaches to video games. Secondly, they move to other ways of thinking about games that do not involve narrative. Finally, they study game culture – how games are made and how people that play them react to them. The last section also includes discussions about gender, since gaming culture is often criticized as male-dominated and sexist.
The first class of each week is devoted to a scholarship and the students have to read either a chapter or several articles from the field of video game studies. For their second meeting, they play a game and analyze it by applying ideas from their reading. This means that half of the homework in this class consists of games. For example, one week they will be reading some scholarship on cheating and explore how people might cheat and why. The next time they meet, they will play the game Dark Souls.
"People who do not like playing video games can also benefit from this class in terms of how to see and read novels," says Steirer. "By analyzing a video game you think about what different media are and what they can do, and therefore, this strengthens your ability to interpret all kinds of text." But even if you love video games, this class can be useful for students as it will help ¬develop new ways of analyzing them and most probably enrich your experience.
"The class and associated readings are helping me to read the narratives of video games as more than just the events of the plot," said Alex Callahan '17, a student enrolled in the class. "Instead, the class encourages looking at further aspects, such as how game time impacts the flow of the narrative, and examining how the player's interactions with the game influences how we emphasize (or not) with the protagonist."
Steirer is also the faculty supervisor of the Gaming Club. In this club, members meet every Saturday night in Rector, and everyone plays different games. There are people who play video games but also people who play board games. Steirer also shares that for one of the assignments in the class his students have to visit the club. Also, for extra credit they can write ethnographic analysis of what the gaming club is as a social space.
Steirer predicted that the field of video games study will continue to slowly grow and possibly in 15 years from now video games studies will begin to be offered in most universities firstly as minors and eventually as majors.