Roseman to Resign Presidency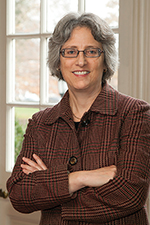 Hang on for a minute...we're trying to find some more stories you might like.
Dickinson College President Nancy Roseman announced her resignation effective June 30 in a school-wide email this morning. Jennifer Reynolds '77, chair of the college's Board of Trustees, said that Provost Neil Weissman will serve as interim president.
"It is an ideal time for the college to bring in a new president to lead these pivotal projects," Roseman said in the email, referring to the current strategic plan and fundraising campaign. "And it is an ideal time for me to pursue other professional and personal goals."
Reynolds expressed "gratitude for [Roseman's] significant accomplishments" on behalf of the Board of Trustees in the same campus-wide email. Reynolds said these accomplishments include the enrollment of the college's largest first year class, increases in alumni programming and a new strategic planning process.
Reynolds said Trustee Jim Chambers '78 will lead a presidential search committee to find Roseman's replacement. Other trustees, faculty, staff and students will also serve on the committee.
Weissman reported in an email to a Dickinsonian reporter that he is "pleased to have an opportunity to help the college through this transition, sustaining our strong positive momentum."
"I look forward to working with the entire community and will draw on my experience over the years collaborating with so many Dickinsonians," Weissman says.
"Over the past year we have appreciated the opportunity to work with President Roseman on numerous student issues, and have confidence that Provost Weissman will do an excellent job leading Dickinson though this transition," says Student Senate President Ian Hower '16.
Roseman succeeded former President William Durden '71, who served a 14-year tenure, as the 28th president on July 1, 2013, according to the Dickinson College website. The college's first woman president, Roseman came to Dickinson from Williams College, where she joined the biology department in 1991, served as a dean of the college from 2000 to 2007 and served as assistant to the president for special projects and was director of the Williams-Exeter Programme at Oxford University from 2010 to 2012. She holds a PhD in microbiology from Oregon State University in 1987.