Danticat Brings Texts to Life in Stellfox Residency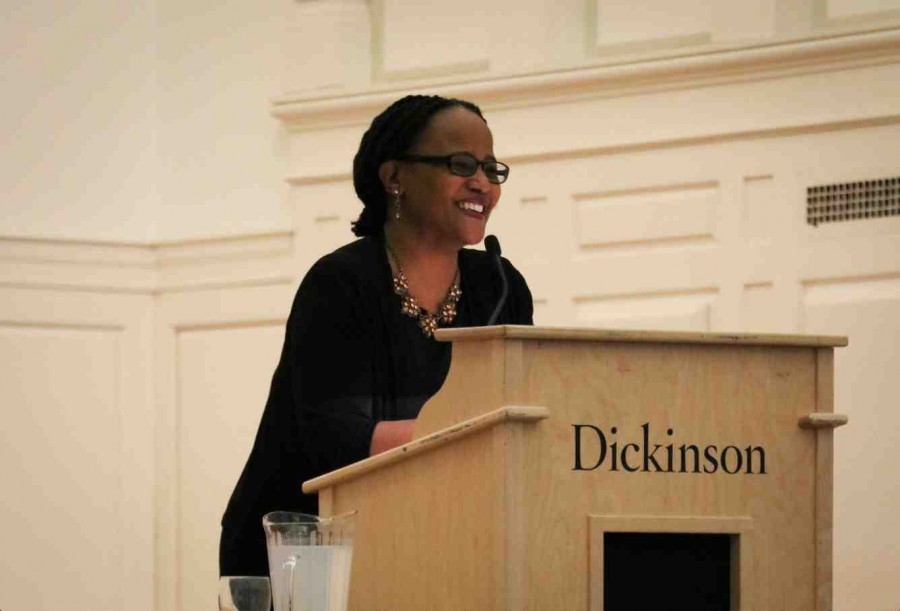 Margot McCrillis '19, Staff Writer
April 14, 2016
Renowned author Edwidge Danticat delivered a public reading on Thursday, April 7, as part of her two-day residency as the recipient of the 2016 Stellfox Prize.
At the reading in Allison Hall, Provost Neil Weissman gave a history of the Stellfox program, which was endowed by a generous bequest from Elaine Stellfox '60 upon her death in 2003. Professor Elise Levine introduced Danticat. The author then read from her novel, Claire of the Sea Light, and engaged with students in a question and answer session.
According to the Dickinson website, Danticat was born in Port-au-Prince, Haiti in 1969, and her parents immigrated to America when she was four years old, according to Encyclopedia Britannica. Her writing is deeply tied to her country of origin, her family relationships and the migrant and diaspora experience. Her book Breath, Eyes, Memory was chosen as an Oprah Book Club Selection, and she was a 2009 Macarthur Grant recipient. Her book Krik? Krak! was a National Book Award finalist, and in 2008, Brother, I'm Dying won the prize.
The Stellfox Visiting Writers Residency is an annual event that invites a different writer to campus each year to complete a residency and give a reading. Professors often integrate writings by the Stellfox resident into their curricula, providing the foundation for an enriching interaction with the author.
In addition to her reading, Danticat's residency also included visits to classes, such as French 364: The Haitian Diaspora, English 219: Creative Nonfiction and Spanish 305: Introduction to Literary Analysis. Students and faculty appreciated that Danticat's residency allowed them to engage with the writer behind their course texts.
"One of my favorite things about my Dickinson education and specifically the English department is that I so often get to combine my classroom studies with literary engagement in the community," said Julia Dolinger '16, after Danticat's reading.  "Watching Edwidge Danticat read was one of these moments. Sophomore year I read Brother, I'm Dying and Breath, Eyes, Memory in Professor Sharon O'Brien's Contemporary American Fiction and Memoir: Between Worlds course. The texts have stayed with me since that point, and it was a wonderful opportunity to hear the voice behind them read tonight."
Professor Su, associate professor of English said, "We hope for someone who will, for a short time, become a member of the community, and this is something you can't know from reading the work, no matter how wonderful it is. We were richly rewarded this year. Edwidge Danticat gave generously of her time and attention."
Professor Sider Jost, associate professor of English, reflected on his own experience, saying, "When I was a senior at Goshen College in 2002, we English majors read Danticat's books as part of our senior seminar – but we weren't able to bring her to campus.  Dickinson students are fortunate to have opportunities like the Stellfox to meet and talk with leading literary and intellectual figures of our time."
According to the Dickinson College website, the Harold and Ethel L. Stellfox Visiting Scholars and Writers Program Prize was created in 2003 after the death of Jeane Louise Stellfox '60, who met Robert Frost during a 1959 visit to Dickinson. She was inspired by her interaction with such an important and influential writer, and decided to set aside 1.5 million dollars to "continue her mission of inspiring students through literature." The program's purpose is to provide Dickinson students with interaction with prominent authors and be inspired by their words and insight.
This year's Stellfox Prize selection committee was chaired by Adrienne Su, chair and associate professor of English, and consisted of Sharon O'Brien, professor of American studies and English, Sarah McGaughey, associate professor of German, Elise Levine, associate professor of English and Todd Wronski, professor of theatre.