Students Take Back the Night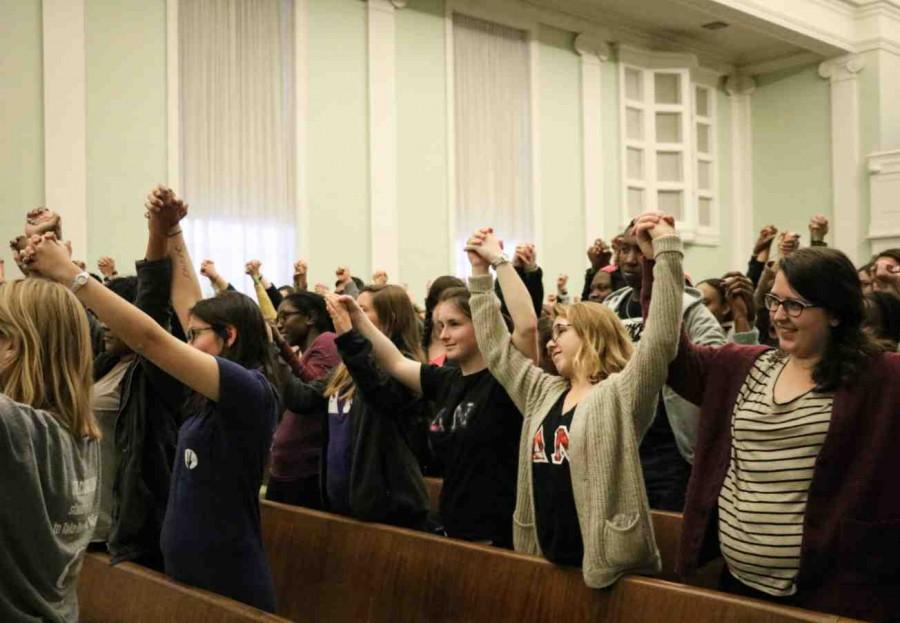 Margot McCrillis '19, Staff Writer
April 21, 2016
On Wednesday, April 13, Dickinson College held a Take Back the Night march and vigil. The event was organized by the Prevention, Advocacy, Education and Care Office [PEAC] along with the Women's and Gender Resource Center. A teach-in was held on April 4 to prepare interested students for the event and educate them about resources for support and sexual assault reporting on campus.
Keynote speaker, Crystal Leigh Endsley, gave a talk at 4 p.m. before the Wednesday event. About 500 students gathered in Allison Hall where PEAC Director Kelly Wilt welcomed them. Danielle Melnick '17, Taylor Cheyenne Bailey '18 and Rachael Moore '18 acted as hosts and introduced speakers. Student survivors of sexual assault spoke about their experiences and journeys to healing. Students Evan Davis '16 and Brady Hummel '17 then performed "Til It Happens to You" by Lady Gaga.
Endsley performed two spoken word poems, and began the chants participants would use in the march, which progressed from Allison Hall to the Kline Center and down Dickinson Walk to Old West. There, candles were lit and all in attendance were invited to come to the podium with messages of support or experience. When the event ended, resources were available at Landis House for anyone needing assistance.
Student speakers included Kenze Burkhart '15, Callie Miles '18, Emily Smith '16, Meg Moran '18 and Rachel Kruchten '16. They shared their personal experiences with healing after sexual assault. Students, faculty and staff voiced their support throughout and responded to Endsley's performance very positively. Most attendees continued in the march, and students helped lead the chants. Many survivors and allies spoke at the vigil expressing their support and their appreciation of the members of the Dickinson community who participated. Exiled also performed several spoken word pieces.
Speakers at the event felt it was a positive experience they hoped would raise awareness of sexual assault on Dickinson's campus, provide support for other survivors and motivate others to make a difference.
Moran said, "Sharing my story … was an incredibly freeing experience. To all survivors: I encourage you to share your story whether in public like I did, or with the people closest to you. I know it feels like it, but you don't deserve to carry this burden on your own. You are so strong." Other speakers expressed similar messages in their speeches and agreed that each survivor's process is individual.
Despite the recent elimination of mandatory team and organization attendance, the large student turnout was encouraging for organizers and speakers.
Kruchten was struck by the increased energy of this year's march and the length of the vigil, though she also said, "I would have loved to have seen a larger faculty turnout, as I could only recognize a handful who came out. I know that having support from more faculty and staff…would help to send the message that this is a campus wide issue that affects all of its members. To anyone who did not make it to Take Back the Night, I would like to re-state words brought forth at the vigil by Professor [Kiersten] Baughman, [instructor of psychology]… 'be the person who meets someone wherever they are on their journey. Be that person, for that is one of the huge ways we can begin to heal collectively and make change on our campus and in the world.'"
Wilt said of the event, "To be in a community of your peers who gather in your honor and to show support is affirming for all who choose to speak, for those who might sit with their experiences more quietly and for those who are still working to find their voice." She encouraged students who have experienced assault, know someone who has or who want to be better prepared to help someone in the future to use available resources on campus, including the 24 hour Confidential Dickinson Advocacy Hotline (717) 831-8850 and the YWCA Rape Crisis Center (888) 727-2877. Other resources include the PEAC Office, Title IX Office and Wellness Center whose contact information is listed on Dickinson's website.