Why We Wear Black Reflects on Year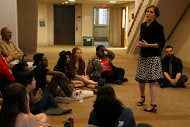 Rachael Franchini '19, Associate News Editor
April 28, 2016
A Solidarity Cypher hosted by the Why We Wear Black movement (WWWB) took place in the Bosler Atrium on April 26 at 7 p.m. to reflect and "celebrate the space and wonderful things that have taken place on campus this year," according to Alejandro Heredia '16, one of the organizers of the movement.
"The movement is focused on joy and celebration of experiences as much as it is dealing with issues of marginalization," added Heredia.
Approximately 50 members of the Dickinson community including the movement organizers, students and some faculty and staff attended the cypher. Breahna Pierce '17, organizer of the movement, says the cypher was a meeting where "artists, rappers or people get together and share experiences." Attendees sat on the floor in a circle.
To begin the event, organizers encouraged attendees to engage the people around them in small conversations about what brought them to the event and what they hoped to share there.
Those who attended and felt compelled to participate then stood up and shared a wide variety of statements, ranging from personal experiences related to inclusivity or discrimination at Dickinson, suggestions for the classroom experience, professor perspectives on how to bring conversations of activism and inclusivity into the teaching environment and feedback on the movement's efforts this year.
Mariana Past, associate professor and chair of the Spanish department, spoke about the impact that the demonstration students carried out on Thanksgiving had on her, the campus and her classes. For this demonstration, WWWB members stood on tables during dinner in the dining hall and forcefully spoke about their experiences with discrimination on campus.
"When the students made the speeches on Thanksgiving…it was so impactful and [spoke to] the lack of dialogue on campus [prior to the demonstrations]."  She went on to explain that in one of her Spanish classes following the demonstration at the Thanksgiving dinner students spent the entire class discussing the event and "being open…the dynamics [of the class] had changed."
Past stated that the forum held at ATS following the Thanksgiving demonstration also impacted her.
"I was amazed by the big forum at ATS…the event was so effectively organized and a real pivotal moment for this campus to show what can be done," Past said.  "It launched the rest of it…know that there are a huge number of faculty committed to continuing this."
Others also commented on the movement's success and of their appreciation for all that WWWB has done and brought to light this year.
"The whole experience has been an affirmation for me," stated Mike Reed, vice president for Institutional Initiatives.  "Trust me you have moved this institution…[and] to see activism alive and well is reassuring…For too long I thought there was apathy but you have dispelled that thought."
"I think it's awesome that so many people are doing things on campus," said Talya Auger '16 "I think it's taken a lot work to get things started but I'm really happy and proud of everyone."
Linda Brindeau, assistant professor of French discussed her love of having a diverse class with many different student perspectives and how important the movement is to augmenting that.
"Every professor's dream is to have a class…where all these perspectives come into dialogue," she said.  "To me it proves how important it is to bring in students of different perspectives…it's a very enriching experience for everyone involved."
Jason Rivera, director of Institutional Research commented on the student interviews about diversity and inclusivity at Dickinson that were conducted in fall 2015.
"I've found an incredible opportunity in my position…I feel like I got to know the soul of this place through the interviews…the people touched my soul in a way I didn't know was possible…In me, there is someone in the administrative level who is willing to fight."
Organizers focused the discussion to moving forward and perpetuating dialogues of inclusivity in everyday life, and attendees suggested practicing "consciousness of who is with you" when speaking of potentially sensitive topics and "reading people" to be aware of their reactions to certain topics of conversation.
"One thing that [people can do] is holding people accountable because small things can amount to large things," commented Alvin McRae '17.  "And they can learn from that experience because they were checked…be that force because you are standing up for someone who might not be able to [stand up for themselves]…you know your voice matters so use it."
For more information on the Why We Wear Black movement, visit the organization's Facebook page.