Watch Party Returns for Round Two: Kaine v. Pence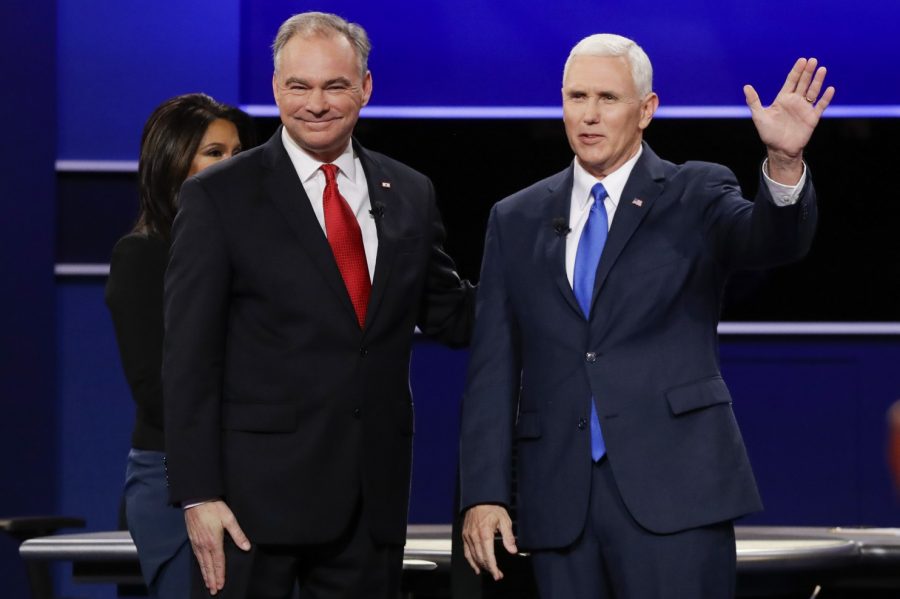 Students gathered in ATS on Tuesday to watch vice presidential candidates Senator Tim Kaine (D) and Governor Mike Pence (D) duke it out during the first vice-presidential debate for this election cycle.
¬Hosted by Longwood University in Farmville, Virginia and moderated by Elaine Quijano, this non-partisan, no-cost event was similar to the first debate watch party hosted on Sept. 26. However, this debate drew a far smaller crowd than the first debate, with only around sixty students in attendance, compared to last week's full house.
Prior to the debate, some students were less than enthusiastic.
Jessica Bell '18, said that the debate "has potential to be good."
Susannah Pearl-Katz '18 thought that "[the debate will] be a bunch of Pence defending what Trump has said, or trying to dig Trump out of the hole he has put himself in." On her thoughts on whether anyone would attend: "the classes required to show up will… I think it'll be interesting; I just don't think it'll have the same entertainment quality."
Emily Gamber '17 said "I think it'll be less people showing up than the presidential debate, but I think people will still show up."
During the debate, Senator Tim Kaine generally followed the pattern set by presidential candidate Hillary Clinton, and hit upon topics like Trump's tax returns. The tax returns played a significant role early on in the debate, with both candidates bickering, drowning out the moderator at times.
Later, the candidates discussed a variety of topics such as law enforcement, criminal justice reform, militarization, North Korea, nuclear proliferation, the Syrian refugee crisis and abortion.
The candidates also discussed terrorism. Kaine claimed the world is safer than it has been, and laid out a four-point plan to reduce terrorism. He proceeded to attack Trump for his lack of commitment on a plan, claiming Donald Trump held admiration for "Putin, Kim Jong Un, Gaddafi and Saddam Hussein." This claim was strongly rebuked by Pence.
Pence then spoke of his immigration program to reduce domestic terrorism, and spoke of ending the Syrian refugee program. Kaine attacked the plan as unconstitutional.
Following the debate, student reactions were generally supportive of Tim Kaine.
Patrick Moore '20, said "I think Tim Kaine won the debate, because he really used facts against Mike Pence, and even though Mike Pence sounded good, he wasn't using reality, he was making up things as he went along."
College Democrats President, Phillip Morabito '17, said "I think that they approached it in two different ways. I don't think Governor Pence really defended anything that Donald Trump really stands for, and couldn't really stand behind much of it, where Tim Kaine seemed to have a really good command of why he is standing with Hillary Clinton. I think Tim Kaine came out on top."
Professor of Political Science James Hoefler said the debate was a "slow motion car crash. The thing was a hot mess, I'm very disappointed. There's gotta be a technological fix for the interruptions… I thought Kaine was especially bad [on interrupting], but there was plenty of talking over either one… It was a pox on all your houses. This was one of those debates that will go down in history as a big zero."
The event was presented by the Political Science Department, Student Senate, the Political Science Majors Committee, and Student Leadership and Campus Engagement.