Welcoming the Newest, Cutest Dickinsonians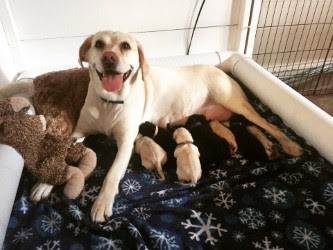 Hang on for a minute...we're trying to find some more stories you might like.
On February 25 a litter of puppies and their mother GEB (Guiding Eyes for the Blind) Talent arrived at the Dickinson Dog House to be cared for.
There was a total of nine puppies in the "L-litter" originally, according to Meaghan McBride '19, the secretary of the Dog House, but seven currently live in the house. SSD (Susquehanna Service Dogs, which is the organization Dog House that works with) Link was a still born and SSD Lilo was born with a cleft palette which was "incompatible with life." The remaining seven pups in order of birth are SSD Louther, SSD Leo, SSD Lentil, SSD Lava, SSD Linus, SSD Lincoln and SSD Langston.
McBride explained that the house members, with the help of their board, must clean up after the puppies while also caring for GEB Talent. While GEB Talent handles most of the cleaning and feeding of the puppies, the Dog House members must make sure the whelping box is sanitary and has clean blankets and stuffed animals every day. They must also ensure that the pups are getting equal feeding time and are gaining weight. The house members also make sure the puppies are receiving ENS (early neurological stimulation), which are exercises meant to give the pups a head start in there training to become service dogs. One such exercise, as described by McBride, involves "holding the puppies in different stimulating positions for several seconds." McBride says "ENS has shown to help dogs become better at problem solving, have more stable temperaments and even live longer." Once the puppies are older, other members of the Dog House will be able to come "puppy hug" to insure that the pups begin to be socialized.
GEB Talent is getting plenty of attention as well. The house members are ensuring that she is taken on walks and fed enough, so that she can remain a happy and healthy dog. McBride expressed that it was important that GEB Talent is given "lots of love like a normal dog, as she's working hard to mother her puppies!"
The Dog House has whelped three other litters puppies, McBride says. They have whelped the "Shades of Green Litter" and the "G-Litter" from birth to eight weeks, as well as, have helped to whelp the "Islands Litter" for their last two weeks. The Dog house will have this litter until they are eight weeks old, which is when they will begin their training to be service dogs.