Through the Brew: Visiting Professor Speaks on Beer, History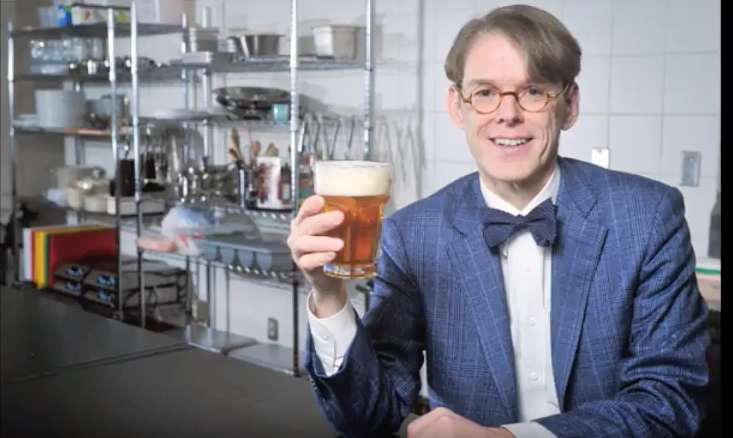 Professor Jeffrey Pilcher of the University of Toronto came to campus to discuss beer and taste in greater Mexico in a two-part event, as part of the annual Pflaum lecture.
The annual Pflaum lecture is sponsored by the history department in honor of John C. Pflaum who was a member of the history faculty from 1946 to 1972, according to the Dickinson College website. Each year, the lecture series invites a distinguished scholar to speak on a significant issue in history.
As the 2017 Pflaum lecturer, Pilcher presented on beer and taste on Thursday, March 30, followed by a salon discussion, hosted by the Clarke Forum for Contemporary Issues, on Friday, March 31.
Before the lecture, professors and students were looking forward to exploring the topic of beer in an academic setting.
"It's something I know almost nothing about, the idea of food history, or food in history, is something that could be really interesting," said Professor of history Stephen Weinberger.
In his opening, Pilcher raised the question of whether the study of food is a legitimate topic for historians to study. He answered his own question with a firm yes, noting that "we are what we eat. Food shapes our identities." He made a specific note that "The conviviality from sharing alcoholic drinks is one that brings us together."
Pilcher continued to assert that taste is a social construct because objectively there is nothing that "tastes good." Turning to alcohol, Pilcher described an Aztec beverage called "pulque," which is a fermented drink made from agave sap. The beverage, according to Pilcher, is usually thick and bitter. He relayed the story of an early settler woman who, after a year in New Spain, had gone from hating to loving the drink. However, as Mexico developed and westernized in the late 19th and early 20th centuries, pulque came to be seen as undesirable, a symbol of the old, rural life that was rapidly being replaced by urban life. This resulted in the adoption of European style lager beer.
"It tasted modern. It had that image of modernity attached to it," Pilcher noted. Lager thus became the symbol of the educated, rich elite, with three main types. Pilsner, which was lightly colored, Vienna, a medium style brew and Munich, "They wanted something so full bodied in the malt, that it was like you were drinking bread," said Pilcher.
Beer production became centered in large cities, and different beer brands became associated with their respective cities; so much so that even if the beverage was a Mexican beer, it was considered an import if it came from a different region. However, by the 1940s, the market had begun to unify, with two main companies leading the unification process, Dos Equis and Corona.
Suddenly, in the 1980s, Corona became hugely popular in the United States, prompting American beer distributors to retaliate.
"The rival distributors were afraid they would lose their markets, so they began to spread rumors that the workers in Mexico were peeing in the bottles," recounted Pilcher. The ensuing court battles helped spread the popularity further, pushed by an association with "wild times in old Mexico."
In recent times, though, pulque has begun to come back to popularity. It has been adopted, along with craft beers, by the hipster communities and those of high social standing in Mexico.
After the talk, Cooper Wingert '20 said "I thought it was a really great introduction for me into the importance of food history, and how … different foods and beverages [can be used] to track cultural progress."
In describing the lecture, Pilcher said, "I thought the audience was terrific. There were a lot of really good questions. I was pleased."
The next day, the Clarke Forum for Contemporary Issues held an invitation-only salon with Pilcher, where twenty participants discussed a variety of topics related to food and drink history. Mexican style food and beer were also provided.
The Pflaum lecture was co-sponsored by the department of history and the program in Latin American, Latino and Caribbean Studies.