Gas Leak Leads to High St Apartments Evacuation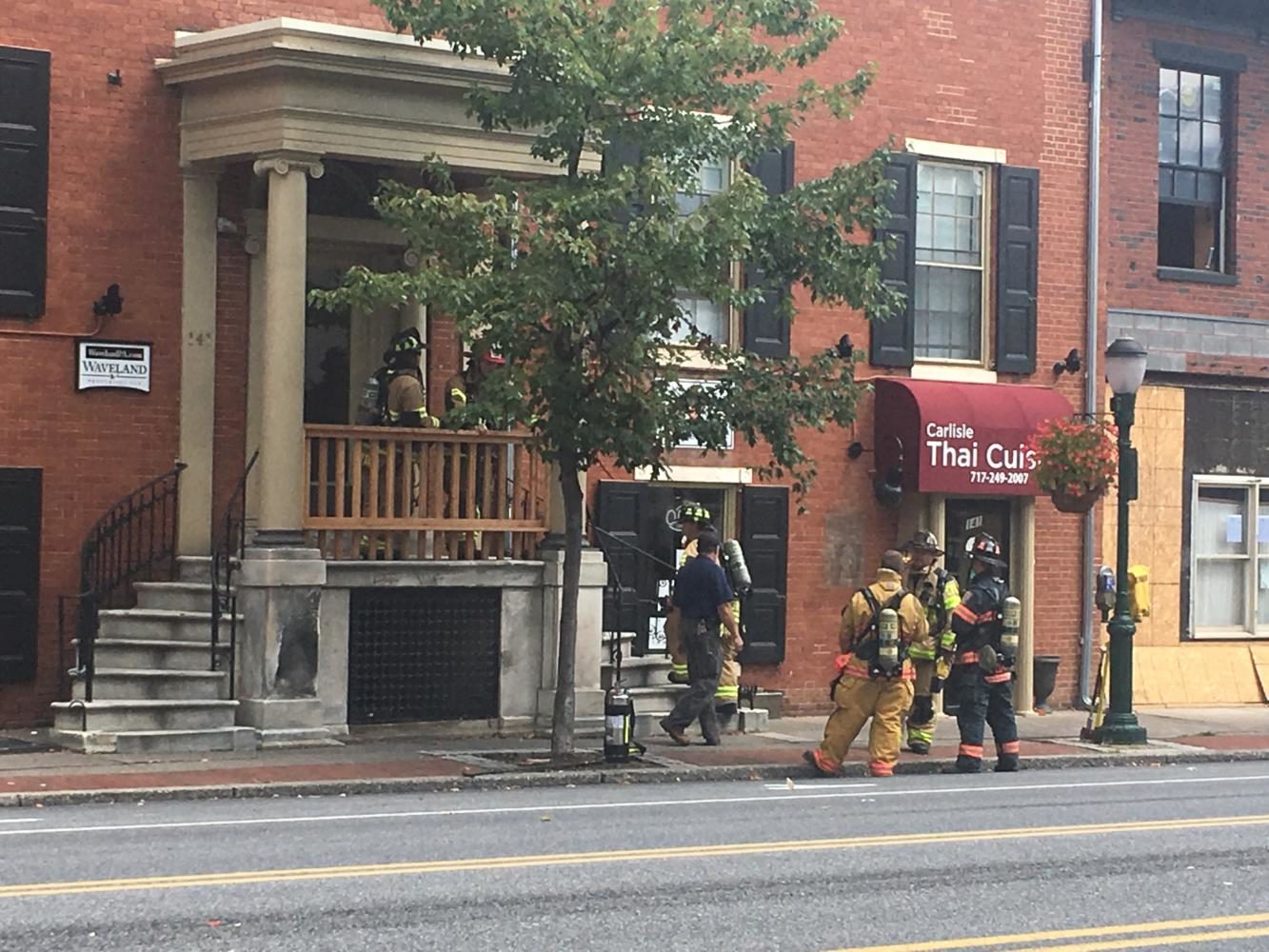 High Street was closed last Thursday, Sept. 7 after a gas leak was reported at White Elephant for the second time a week.
Engines from the Carlisle Fire Department arrived outside the restaurant by 11:40 a.m., and vehicles from the Carlisle Regional Special Fire Police cordoned off High Street between West and Hannover, and Pitt between Pomfret and Louther.
On the scene, Associate Dean of Students Angie Harris said "The report came from the Carlisle Thai restaurant, that there was a gas leak. Out of caution we evacuated all the residents in 141 [High Street]. It does seem to be in the restaurant."
Lauren Mullany '18 smelled the gas in her house, and called DPS.
"We smelled propane in the building, and I called DPS. I think it was around 11. They [DPS] came, and inspected everything, and then the fire station came, and police officers came, and then they blocked off the streets," Mullany stated.
Firefighters worked for two hours in and around the property, and traffic was redirected away from the area. Jason Coulson, a firefighter from the 38 Carlisle Barracks Fire Department confirmed that Thursday's response was typical. "You get three engines, a ladder truck and the EMS unit for inside gas leaks."
Collier Streitman '18, a resident of White Elephant who was not evacuated said he was in the shower when the building got evacuated, which is most likely why he was left behind. Streitman also recalled that last Sunday, about an hour after the activities fair, residents of White Elephant received a red alert email. A fireman was also present and he evacuated the building then as well.
Dolores Danser, chief of Public Safety, responded in an email:
"While the gas leak was being investigated, the restaurant area was the only section of the building where some gas was detected. We thought it best though to also evacuate the apartments, just as a precaution while the fire department and the gas company aired out any residual gas, which was caused by several pilot lights being out on a restaurant stove," she stated. "We went door to door asking everyone to leave by knocking on apartment doors. Resident Life also sent emails to all building residents. The student who you spoke with [Streitman] likely missed us knocking on the apartment doors, if he was in the shower."
On Friday, the day after the second leak, Carlisle Thai Cuisine posted on their Facebook page in regards to the gas leak. "Unfortunately, we need to temporarily close for business as we repair pilot lights that are not working on our cooking equipment. You may have heard that there was a gas leak call from our building and it was found that the leak was due to [seven] faulty pilot lights in our kitchen. This condition left the natural gas flow without being wasted by combustion and could have created a potentially catastrophic situation."
Students expressed concern regarding the leak. Erika Faulkner '20 "A little nervous, this is the second gas leak of the week, there was one Sunday night. It's a little nerve wracking."
Harris confirmed that "UGI, local gas company, resolved the issue."