Dickinson Sends Students, Trash to Landfill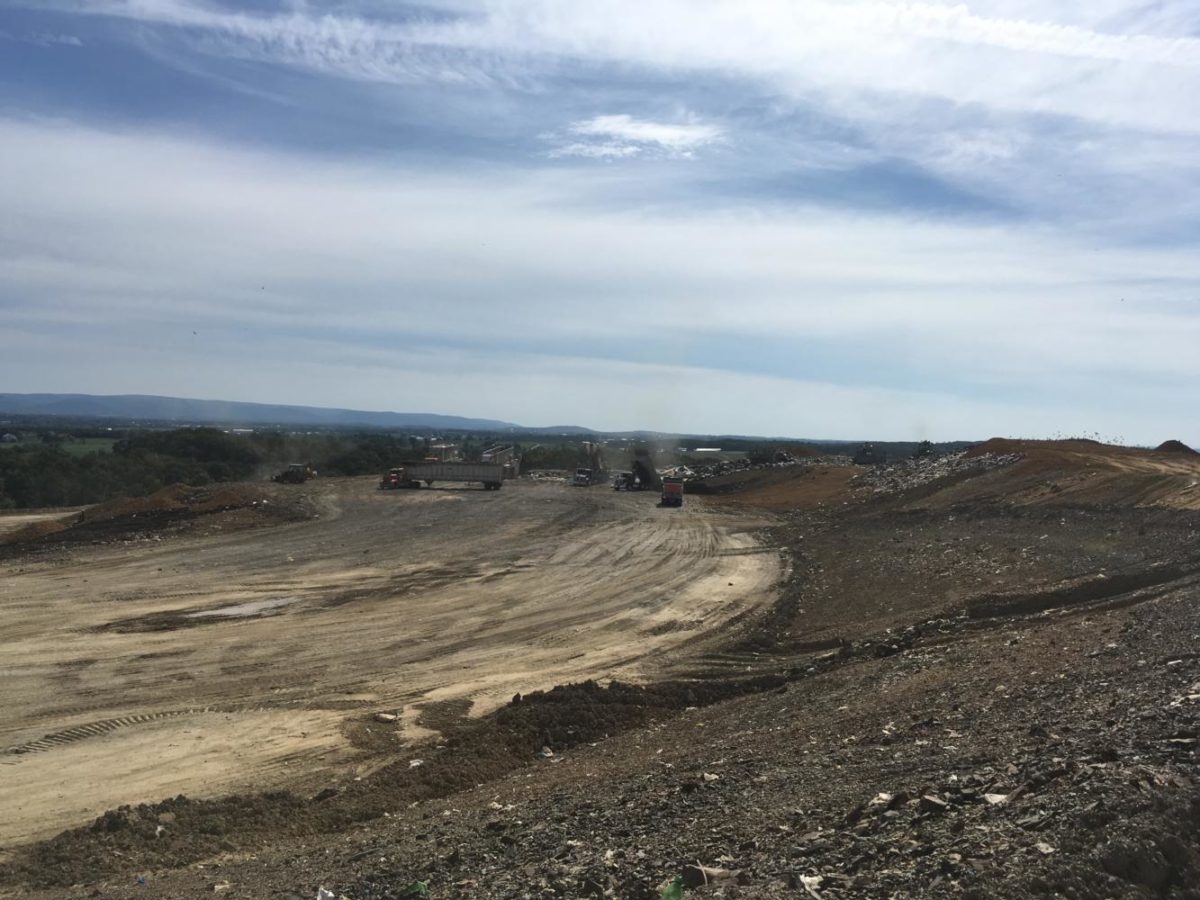 Seven Dickinson students went to the Cumberland County Landfill on Friday, Sept. 22 to see firsthand the landfill to which Dickinson sends 550 tons of waste per year.
The trip was a part of the "Exploring Our Place" series from the Center for Sustainability Education (CSE).
The landfill, owned and operated by Advanced Disposal, was originally built in the 1970s, occupies approximately 100 acres in Newberg Pa., and accepts up to 2,950 tons of trash per day from an average of 80 trucks.
"I am astounded by the amount of waste that goes into the landfill," stated Steven Fitzpatrick '18.
Bill Neidig, a former employee at the site who led the tour, said that the landfill, as currently excavated, will most likely last for another 12-15 years, although that may change, as their maximum daily input is set by the legislature. The landfill is currently working on construction of a new cell, which will occupy around 8 acres and cost $3.2 million. The cells, lined with plastic, dirt and stone to prevent any leakage, are capped when they become full, and any gasses produced are syphoned off. This gas, largely methane, is used on site to power generators, which generate enough power each day to power 8,000 homes.
"That entire cell that was just huge, and that's only going to last a year and a half? That was just crazy," said Fitzpatrick.
Madeleine Gardner '18 commented, "I was surprised as to how short a period of time the landfills actually last."
The current generators were installed when the landfill accepted less garbage, which has led to them having to burn off additional methane, as they cannot store it, according to Neidig. The power generation, overall, is a net positive however, as it puts the otherwise wasted gas to use, and generates money for the landfill. Neidig explained that while the landfill enjoys large net revenue; accepting 15 million tons of trash at $50 a ton, new construction is expensive, which creates little net profit.
Neidig also explained that once the landfill is entirely full, the land itself is useless; it cannot be built on and no large plants are allowed to grow for fear of damaging the caps on the trash cells. Only small plants, such as grass, are allowed, and although Neidig said the site could be used for recreation if it were flat enough, business interests preclude that scenario.  If the landfill was planned to be flat, then the company could not pile the trash as high, which causes a loss of money.
"To hear they're going to need another expansion, and then that's it, and we're out of land, and we have to build a whole new one, and the land is now completely useless to us. Like, nothing can happen," Gardner stated.
Part of the issue around sustainability is education about what is trash and what can be recycled. Neidig said that, when trash comes to the landfill, they don't check it to see if it is recyclable or not. Once they receive bags of garbage, whether or not it contains recyclable objects, it is compacted and buried. The college currently generates around 1000 total tons of waste, 450 tons of which is either recycled or composted. Student reactions were generally positive.
"…All the recycling we saw lying around, was like, hey, we can just recycle that," Fitzpatrick said. "That was crazy. That's just a sad place for all that stuff to go. It's just there, it's not going to really compact too much further from where it is. Beyond that, it's going to stay there forever."