Dept. of Theatre and Dance Turns College Farm to Dust Bowl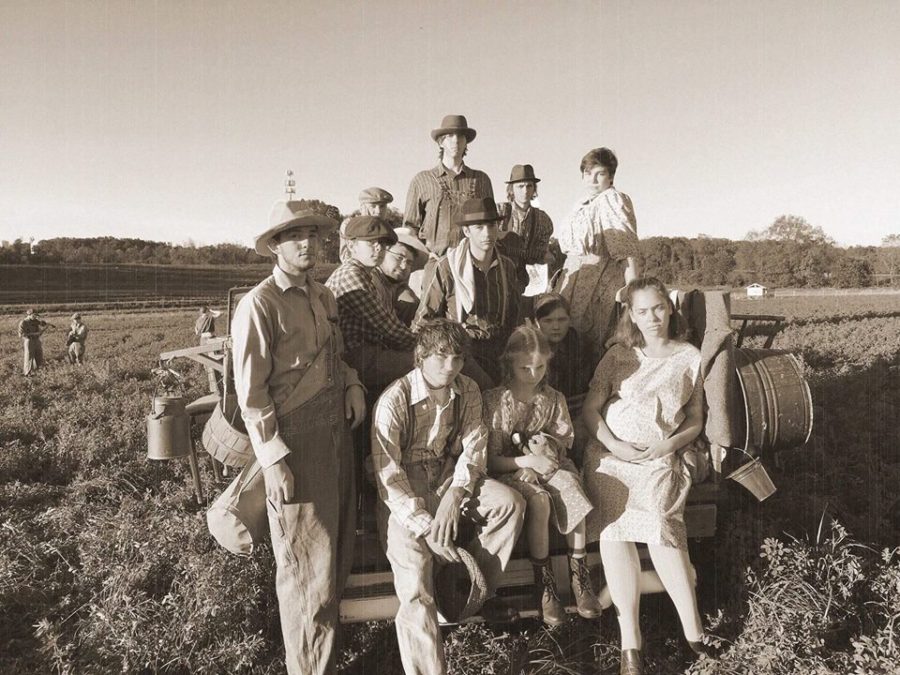 Lauren Toneatto '21, Contributing Writer
October 12, 2017
Bonfires, hay and subtle "baaing" of sheep in the background all combined to create an "immersive journey" across the Dickinson College Farm for the production of Grapes of Wrath,  transporting viewers to the Dust Bowl of Oklahoma.
Audience members physically followed in the footsteps of the Joad family as actors lead the way to California on October 6 through 9.
Before getting to the farm, viewers bordered onto buses and were given programs.
Inside, Dramaturg Joshua Bennett '20, stated, "This journey is not one of casual voyeurism into a world that is not your own. We still live in the same reality that the migrant workers lived through in the 30s, just with some chrome overlay."
Nods to this idea can be seen as Max Farley '20, playing the grandfather, declares, "This here my country, I'm staying here." As the bus ride continued, passengers were told more about the setting of the production and the lives of migrant workers, much like the fictional Joad family on whom the play centers.
Once on location, the show utilized everything from tractors to the barn to create a truly "site-specific production," as Bennet's note stated. However, cast member, Sarah Scarbrough '21 noted that it wasn't without it's "logistical issues." Between figuring out who was driving and dealing with where to place props, considering rain didn't stop when rehearsal did, "stuff like that which normally [we] don't have to worry about, becomes a big thing" when working outside opposed to a traditional stage.
Justin Burkett '20 played Tom Joad, a criminal recently let out on parole, and acted as the play's protagonist for a portion of the show. Scene one concluded with, "Well, come along then" to preacher Jim Casey, Michael Luzzatto '20, and the audience, prompting the true adventure of the Joad family to begin.
Scarbrough was impressed by the turnout of the audience at all the shows. "We had a lot of people who actually came more than once which was kind of surprising," she said, "it's such a sad show, so the fact that people were enthusiastic enough to come back" came as a surprise.
"The show was fantastic. I especially loved how the kind of barrier between the audience and the performers seemed to disappear because of the way the set was organized," commented Silke Kuhn '21.
The Grapes of Wrath is based on John Steinbeck's 1939 novel of the same name. It tells the story of the Joad family as they make their way from Oklahoma to California in hopes of a better future after they are forced to leave their home due to the destruction of the Dust Bowl. The play was based on the 1988 production which received a Tony Award for theatre. This Dickinson production was directed by Karen Lordi-Kirkham, professor of theatre.