Film Showing Highlights Experiences of Latina Performers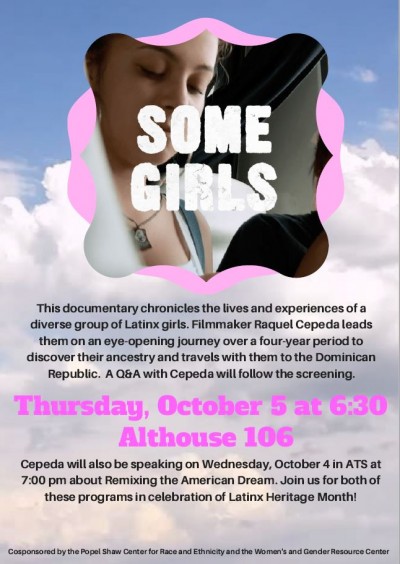 Hang on for a minute...we're trying to find some more stories you might like.
Filmmaker Raquel Cepeda told the Dickinson community that many Latinxs are abandoning their own heritage roots while trying to assimilate to a new culture at the screening of the documentary "Some Girls."
During a Q&A session at the end of the movie, filmmaker and journalist Cepeda, who, according to her personal website, was born to Dominican immigrant parents in New York, noted that many Latinxs she met or saw on TV tried to alter their identity in an attempt to fit into the new society.
"Many Latino performers I see on TV all of the sudden start to change their names, their identity," said Cepeda. "I met a Mexican American guy from El Paso who moved to New York. He was helping me with a project and he told me that he felt uncomfortable speaking Spanish so he had to change his accent."
Cepeda explained that the reason behind the Latinxs' actions also stemmed from the pressure to conform to their own community's expectations. "He said where he was growing up, Mexicans would look down on other Mexicans who spoke Spanish. Because their ideal is to elevate themselves to white greatness," noted Cepeda, "So, by trying to assimilate to a new culture, they are totally abandoning their own identity and cultural heritage."
However, Cepeda was personally unfazed by such challenges. "To me, the fact that I live in a white society didn't change the fact [of] where I am from and who I am. It enhances me." Cepeda also said she was fueled by the desire to help other Latinos rediscover their heritage: "It should make me feel more of a connector. That was why I created this movie, to connect these Latinx girls with their ancestry."
"Identity is everything," noted Cepeda at the end of the Q&A.
"Some Girls" is a documentary that chronicles the lives and experiences of a diverse group of Latinx girls as they went on an eye-opening journey to discover their ancestry in Dominican Republic, according to the Dickinson College website.
Alison Lanyon '19 "…liked the movie a lot. I thought it was interesting to think about how someone's ability to learn about their personal history and the story of their ancestors could affect their life so profoundly."
Susan Doyle '18 said, "I loved it. I think from the movie I learned that it was really important to learn about the lack of truth in the history that we learn in schools."
Lanyon noted that she could "see [her]self in all of the Latina teenagers. I'm Puerto Rican, but never had an opportunity to learn much about where my family comes from." Lanyon also explained that her ancestry has become something that she really wanted to focus on learning more about. "It was really interesting for me to see how learning about their personal history affected the girls in this movie," she added.
According to Donna Bickford, director of the Women's and Gender Resource Center, the screening of "Some Girls" was a part of the college's Latinx Heritage Month in collaboration with the Popel Shaw Center for Race and Ethnicity. Bickford explained that the film itself deals with issues of identity, ancestry, and history and how these intersect for a group of Latina teens. "This is an opportunity for our students to think more about these issues and experiences, and to engage with the filmmaker herself," said Bickford.
The documentary was screened on Thursday, Oct. 5.