Stress Less Week Hosted to Help Students Reduce Exam Stress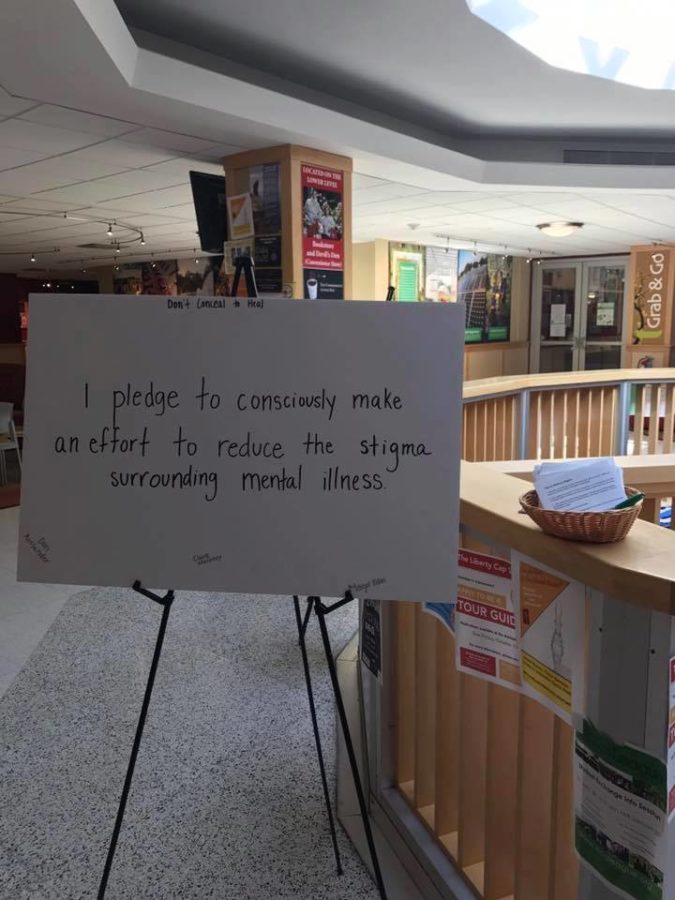 Rebecca Agababian '21 , Contributing Writer
October 26, 2017
Students of all workloads and stress levels are encouraged to participate in Stress Less week, a five-day event this week hosted by Don't Conceal to Heal. The week will consist of activities ranging from adult coloring books to therapeutic calming stones to promoting coping mechanisms for stress.
Club President Claire Maloney '19 says that the idea for the weeklong event came from a general need for more positivity around the week of exams. "We wanted to help out students who were struggling during finals and feeling a lot of stress and anxiety, just to bring something more positive to the week and as a way to cope with those negative feelings," she explained.
Stress Less Week, going on now through Friday, Oct. 27, consists of activities on Britton Plaza and the ground floor of the Holland Union Building (HUB). Monday began with song writing and poetry on the Britton Plaza to encourage students to voice their feelings. According to the club's calendar, available on their Facebook page, the week has also included events such as a bubble wrap activity, done in collaboration with the Doghouse, on Britton Plaza Wednesday morning.
The events will move off campus on Thursday night, where busses will be available starting at 7 p.m. to take students to the college farm for "Burn Off Stress". They will be able to throw their written-down uncertainties and fears into a bonfire while eating s'mores. The week of events will culminate with a student-led art therapy calming stone activity, on Friday from 11:30 a.m., also on Britton Plaza.
"Even after the week itself of studying, it's still anxiety-producing to wait for your grades and wait to kind of see the results for what happened during midterms week so that also was kind of our thinking," says Vice President of Don't Conceal to Heal, Dori Auslander '19. "People can still be anxious or be tired from all the work they put in or just be anxious about getting a grade back."
"Don't Conceal to Heal's main focus always is to destigmatize mental illness so even if this isn't necessarily something you need right now, it could be coping skills that you could use in the future," says Auslander.
"I totally think that events like this one are important," says Sophie Martin '21 of Tuesday's adult coloring pages and snacks activity. "Even if they are just small events like this one, at least they make you smile and make you think about something else other than what is stressing you out."
Maloney says, "I hope that [this week] will create conversations about mental health and things that people can do to de-stress at any time that isn't during this week …just to make these conversations more than they usually are."