Costume Incites Controversy Photo of Student's Halloween Costume Prompts Backlash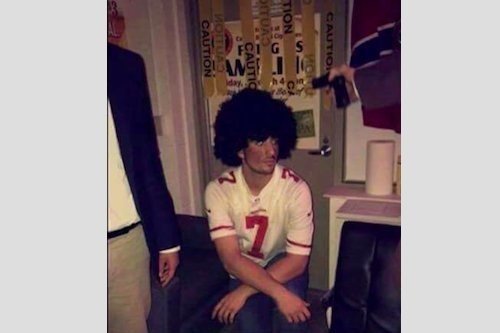 An image where a student dressed as Colin Kaepernick while another student was visibly holding a gun in the same photo has reached multiple news stations, prompted alumni to speak out in disappointment and sparked student dialogue.
The two students have since issued separate statements apologizing to the campus community.
The photo, which was screenshotted from Snapchat and widely circulated on Facebook after being taken on Friday, Oct. 27, depicts a first-year member of the Men's Varsity Lacrosse team dressed as Kaepernick, a former National Football League (NFL) player who sat on the bench during a preseason game on Aug. 28, 2016 during the opening ceremony and the playing of the national anthem, and a sophomore member of the Men's Varsity Lacrosse team holding a gun in the right side of the photo.
The kneeling student was perceived to be wearing blackface, although he has since denied using any method of darkening for the costume. Also perceived in the photo was a gun pointed at the aforementioned student's head. Both students in the photo have claimed that the gun was not a part of or related to the costume in any way. Both students' official statements were submitted to The Dickinsonian, on Tuesday, Oct. 31. and can be found below and on page 6.
The college's response was sent out Sunday night, Oct. 29, by Vice President and Dean of Student Life, Joyce Bylander.
Part of the statement read: "We must all understand that this action, however distasteful, is a form of free expression. However, their speech does not mean that we must sit idly by and accept their message…" When asked for further comment on Tuesday, Oct. 31, Bylander declined.
Assistant Dean of Student Life Josh Eisenberg later posted an "update" relating to the original statement on Dickinson's Student Leadership & Campus Engagement Facebook page: "Although my intent was to clarify the college's response to the incident on campus I, instead, used words that caused anger and hurt. For this I apologize," it read.
Dickinson alumni have allegedly started to withhold donations to the school while others have pledged to write letters of disapproval to the administration. According to Tom Powars '20, a phonathon caller for the Office of College Advancement, he has already encountered multiple donors who were unwilling to contribute due to the way Dickinson has decided to deal with the incident.
Several alumni have also taken to social media to express their outrage at the weekend's events. On Twitter, Lydia Snider '91 posted, "As an alum[na], I expect a swift and clear response in keeping with the level of this blatant racism. Expel all students involved."
In a Facebook comment, Ryan Protter '16 stated he had already sent an email to Bylander about his disappointment. "She has a lot of sway, and as the Dean of Student Life, has the most appropriate role covering the incident."
In a Facebook comment, David Durstewitz '10 expressed his disappointment with the school's response, however, he also applauded the students' response to the incidents.
"Why is it always the student and young alum responses to things like this that make me proud and never the institution's response?…How much longer before I can be proud to be a Dickinsonian?"
The incident was picked up by several news outlets, including but not limited to the Carlisle Sentinel, the Washington Examiner, the Chronicle of Higher Education, The Morning Call, the Pittsburg Post-Gazette, Philly Voice, Lancaster Online, ABC6, Fox43 and WGN-TV. Penn Live also published an article which has been shared by nearly 700 people on Facebook. Breitbart News' publication on the incident has been shared by more than 3,600 people on Facebook and a video published to Al-Jazeera Media Network's online news and current events channel, AJ+, on Facebook, was viewed nearly 300,000 times in under six hours by print time.
Dickinson students' responses have also called for more action. In a statement released by the Xi Alpha Psi chapter of Kappa Alpha Psi, of which Colin Kaepernick is a fraternal brother, on the morning of Monday, Oct. 30, the fraternity says it was "disappointed with the individuals in the photos" and that "regardless of its intentions, the photograph is perceived as an execution of Colin Kaepernick, a man of color." The two students involved declined these allegations in their respective statements, printed below and on page 6.
That same afternoon, a group of students gathered on Britton Plaza to express their discontent with the costume choice and the content of the photo. The conversation centered around the feelings of marginalized groups of students on campus.
Mujahir Lesure '20 stated "Dickinson is really good at sweeping things under the rug and we can't let this happen. Let's not make this an issue just today but tomorrow and every day for the rest of the semester!"
A community conversation was also held that night in Allison Hall, organized and facilitated by the Student Senate and the Black Student Union (BSU) in conjunction with Dickinson Christian Fellowship, Student Liberation Movement, Feminist Collective, Raven Claw Society, Wheel and Chain and the Order of Scroll and Key.
President of BSU, Karem Mathiang '18 stated that "Ignorance is no longer an excuse when students have done everything in their power to be heard…..to the marginalized, you are loved, the fight will continue, and you are always valid in feeling what you feel."
This meeting was attended by several members of the Men's Lacrosse team, including Zachary Blumenstein '18 who stated: "I want to apologize for not telling [the student] not to dress up like that… this [incident] doesn't reflect the culture or values of our team in any way, shape or form."
The lacrosse team's captains, Connor Murphy '18 and Dane Huber '18 were also in attendance. Huber commented that, "We do take ownership… we are committed to fixing this issue. We want to commit to making that change going forward."
Quadrese Glass '19 at the Allison Hall community gathering, said, "I'm mad as f*ck. Why do I have to continue to educate people who clearly don't give a f*ck?…What just really ticked me off is that to reinforce the statement that you're "not racist," you get a black men [referring to Blumenstein] to stand up…that's more racist than I've ever seen…you did it [the photo] because you wanted to do it, and because you got caught, you're standing here crying."
Kenya Bullock '19 said, "…Black men/black people are allowed to be angry. Using your black teammate [referring to Blumenstein] as an example for why you aren't racist, is the common mistake of racists…..this immediately dismisses people's feelings." She continued, "The lacrosse team does not want to change things, they just want the fire [out] from under them. Change will happen. I won't stop working until it does."
The Popel Shaw Center for Race & Ethnicity has also hosted a film screening and discussion about African American cultural appropriation in regard to the film Ethnic Notions on Tuesday, Oct. 31, at 4:30 p.m.
On Tuesday, Oct. 31, Student Senate put forward a motion to "address the recent acts of racism on campus," and reiterate Dickinson's community values of tolerance, understanding and respect for cultural differences. The document denounces the "recent use of blackface, [Editor's Note: this claim cannot be confirmed from the picture in question] cultural appropriation and violent imagery by a student on campus," as well as any form of the aforementioned points. The meeting also pledged to form a Student Senate subcommittee to address these and similar issues at Dickinson.
Following the session, students came together in the Underground to discuss additional responses the student body could do. In an email sent out to participants of the meeting, the group identified its ultimate goals as: conducting hearings for those involved, implementing healing spaces for those in need, changing the language of the student handbook in regards to social misconduct, holding peers accountable and revisiting the college's definition of free speech and hate speech, among others.
The meeting was also attended by lacrosse team member Mitchell Andres '18. "Apologies are in order," he stated. He went on to explain that the lacrosse team had had a meeting Tuesday afternoon, where leaders of the lacrosse team had concluded that more effort was needed to foster connections between members of the team and the broader Dickinson community.
Joe Giunta, director of athletics, issued his statement on behalf of the athletic department on Tuesday, Oct. 31.  "The photo of a student-athlete that circulated this weekend was upsetting and unacceptable, and does not represent our community of student-athletes." Giunta also explained that "student-athletes are expected to be serious scholars committed to Dickinson's values of diversity, inclusion and service to the community. Discriminatory behavior will not be tolerated in our athletic program."
In a prepared statement, the head coach of the lacrosse team, David Webster '88, also acknowledged the situation as a "horrendous mistake" and stated that "as a team, we want to work with the Dickinson Community and help heal the harm that was caused."
President Margee Ensign also issued a statement to The Dickinsonian:
"The photo circulated is upsetting and hurtful and does not represent our common values…We must all nurture tolerance and appreciation of difference among people, and handle mistakes when they are made," she explained. She continued, "Dickinson is a civil and caring community, and in learning from our mistakes we best exemplify our values…I have been President of Dickinson College for only a few months, but I know what a special place it is.  In talking to current students, recent graduates and our alumni, I sense nothing but hope for the future of our college and our country."
According to Chief of Public Safety, Dolores Danser, "The Halloween costume situation is still under investigation."
Information contained in this article were gathered before print time at 5 a.m. on Wednesday, November 1. For further updates, visit www.thedickinsonian.com.