Men's Swimming Tops Tri-Match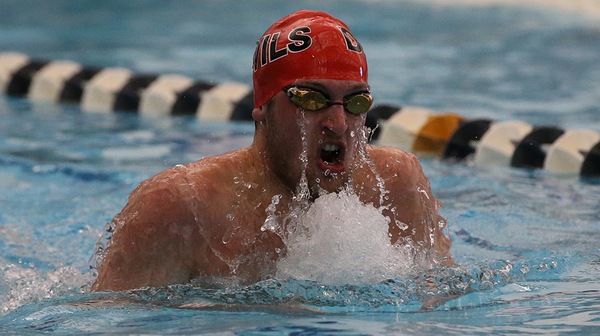 The Dickinson men's swim team headed into the weekend with high hopes for victory, and with each race bringing them closer, they achieved it. The Red Devils traveled to Lebanon Valley College on Sunday, Nov. 5 for a tri-meet with Lebanon Valley College and Wilkes University.
Filled with excitement and determination, Dickinson was ready for the meet after long hours of training, and began the meet strong. The Red Devils picked up a one-two finish in the 200 medley relay to begin the meet and set the tone for what was to come. The winning team, consisting of Colin Shea '21, Will Freeman '20, Tyler Catania '21 and Allen Belo '18, was able to touch the wall first. They were followed closely by Jake Beley '18, Nick Beard '18, John Grafa '20 and Jeff Gabriel '21.
Carrying the same feeling into the rest of the meet, Freeman and Tyler finished first and second, respectively, in the 200 freestyle, extending the lead that the Red Devils began the meet with.
Alongside Freeman, there were many other individual victories. Beard took the 200 Individual Medley, Graham Novitch '20 took first in the 800 freestyle and Mitchell Reynolds '18 won the 400 freestyle.
Overall, the men's swim team had a very strong performance and was able to win both rounds at the tri-meet. They outlasted Wilkes University 106-88 and overcame Lebanon Valley College 125-49, advancing their overall record to 2-1 on the season so far.
The Red Devils will host the University of Scranton on Saturday, Nov. 11 at 1:00 p.m. in the Kline Center.