National and Pa. Opioid Overdoses Highest Ever Recorded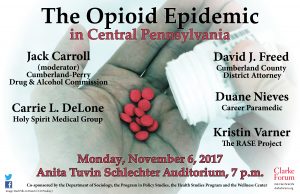 Hang on for a minute...we're trying to find some more stories you might like.
A panelist at a Clarke Forum event has claimed that fatal opioid overdoses are the "highest ever recorded" in both Pennsylvania and the United States as well.
Jack Carroll, executive director of the Cumberland-Perry Drug and Alcohol Commission, claimed at a lecture on Monday, Nov. 6 that, according to the U.S. Drug Enforcement Administration (DEA), there were 4,642 fatal opioid overdoses recorded in the state of Pennsylvania in 2016, which is equivalent to 13 deaths per day. In the Cumberland County area, as of Monday, Oct. 23, there were 69 overdose deaths.
According to another panelist, Cumberland County District Attorney David J. Freed, the epidemic is, "real, and it's killing people." He also stated that he commonly sees clients facing legal consequences due to illegal actions motivated by drugs.
Sergeant Dave Miller of the Carlisle Police Department (CPD) explained that although the department has limited resources, "the officers care about people. You're not going to arrest your way out of a crisis like this." He explained that in order to combat the epidemic, the department has been reaching out to the District Attorney's office, the Cumberland County Drug and Alcohol Commission, as well as volunteer organizations and the Cumberland County Probation and Parole.
"We see some of the absolutely broken families that these types of addictions bring," Miller said. He also added, "we're trying to figure out what we can do here in Carlisle to help this."
"We have a lot of work to do," added Carroll. "I would encourage people to reach out and find out what resources are available. Because treatment is available."
Kristin Varner, a former addict and now director of the Carlisle branch of the RASE project, a non-profit organization that works to assist addicted community members, said "recovery is possible." Speaking on the severity of addiction, she added, "very rarely are we getting high anymore. We're surviving." She told students that education is most important in combatting "substance use disorder," and explained that detox alone does not cure addiction. She explained that rehabilitation can present in all sorts of ways, and is critical to surviving addiction.
Former Pennsylvania Surgeon General Dr. Carrie DeLone showed the audience photos of celebrities who died of drug overdoses, including Michael Jackson, Phillip Seamour Hoffman, Judy Garland and Cory Monteith. She also maintained that some of these celebrities died almost 50 years ago, explaining that "this isn't a new problem." She explained that addiction is a medical disease, and that doesn't just affect famous people. DeLone also told the audience that illegal opiates can be just as dangerous as illegal opiates, and that new regulation is in order. "We have to be aware of what's going on, and we have to take a stand," she said.
Duane Nieves is with Holy Spirit Emergency Medical Services, and explained the important role that Naloxone, an injectable treatment for overdose, plays in the hands of paramedics. Nieves explained that the need for this drug has grown, and that all first responders can carry the drug. Its properties "bring people back," said Nieves. Carroll added that they should be kept like epi pens.
Kendall Peck '18 was shocked by the recent increase in overdose deaths. "I had no idea that Carlisle was going through this epidemic. You live in such a bubble in Dickinson, and you have no idea that it's happening," she said. "It's heartbreaking."
Chiso Egbuchulam '19 was also surprised by the epidemic, but says he has seen evidence of it in town. "You can see old needles at the train tracks, so it's apparent in Carlisle."
Miller and the panel of speakers both said that to fix this epidemic, there must be law enforcement, a reduction in oversupply, an increase in Naloxone and access to treatment, although, according to Miller,  every first responder team, including police, EMT's and firemen, now carry Naloxone.