Frequent Use and Weight of Doors Cause Althouse Hinges to Fail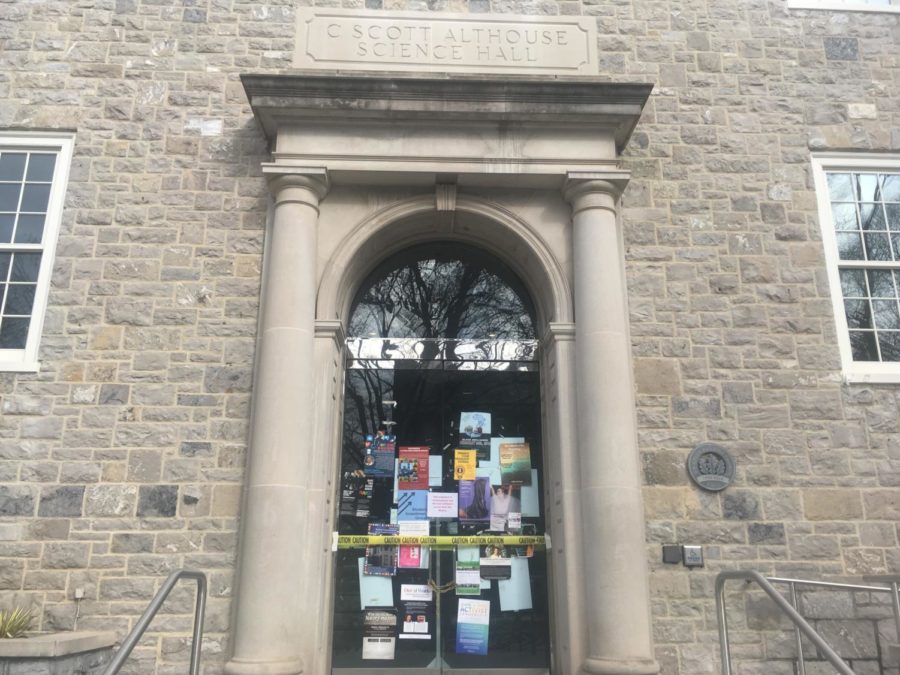 Students were unable to get to their classes through the main door during the beginning of the week when the hinges supporting the front door of Althouse Hall failed.
In an email to the Dickinson community on the morning of Monday, Feb. 12, Customer Service Coordinator of Facilities Management Brent Hair said "Due to a door failure, the main entrance to Althouse is closed. The extent of the failure is undetermined at this time."
Kristen Kostecky, associate vice president of facilities, explained that in this case, the door failure is due to the failure of hinges that support the doors. This was in part due to the weight of the doors and the frequency of use. Kostecky explained that an outside contractor will need to be hired in order to make the repairs.
The Althouse door is currently chained shut, the area closed off with caution tape, awaiting repairs. Hair advised that students use the door opposite the Quarry for building access, and mentioned that "facilities has placed keys in the switches of the wheelchair lift at that location so that it is available for anyone who may need to use it."
Graham Klimley '19, who attempted to open the door, said, "I was walking to class today with my headphones in and looking at my phone. I didn't notice the sign by the building and from force of habit, I walked up to the door and tried to open it. I looked stupid, but I did see other people try and open it as well. I wouldn't say it's problematic, but if people aren't paying attention they could really try and pull the door down."
Ian Barry '20 expressed concern about the lack of specificity in the Monday email. "I think it's a little ridiculous that there's a 'door failure.' I just think it [is] kinda funny," he said.
Alexis Scott '19 said, "I found it very inconvenient because I didn't know where the side door was."
Mac Ramsey '21, said "I thought the email was hysterical. The chains and the caution tape that they had around it [front door], that's what got me. They already don't open, you don't need to caution tape it too."
Olivia Brown, '21 said, "Obviously that is the more convenient door to get into Althouse, but I'm sure they're trying to fix it quickly so that we can use it again."
Hair explained that there is no current timeline for the repairs, and stated that the community will receive further information as it becomes available.