Alumna Takes Over Goodyear Gallery for Exhibit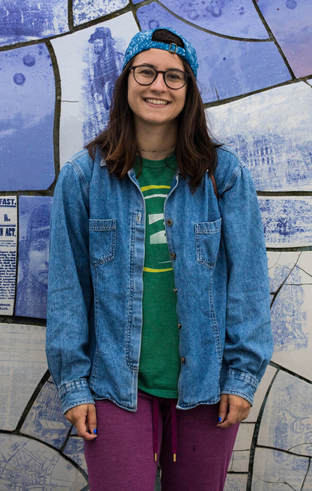 Hang on for a minute...we're trying to find some more stories you might like.
Alumna and 2017-18 Art & Art History Post- Baccalaureate Artist Talia Amorosano '17 will be exhibiting her work in the Goodyear Gallery, beginning with an opening reception on Wednesday, March 7.  The exhibit is titled Once Removed and will feature her original work.
According to her website, Amorosano is "a multimedia artist."  She says that "If there's a single guiding theme present across my stylistically inharmonious body of work, it's the concept of change." She relates this lack of style harmony to being "someone who tends to resist change in most facets of my life," and finds "catharsis by embracing it within the private pages of a sketchbook or the controlled environment of a studio. In these spaces, I use an ever-expanding list of processes, mediums, and methods to reflect on past experiences and explore hypothetical scenarios, to throw ideas at the wall and occasionally tape them there."
Though this process "may sound like escapism," for her, "it's the opposite. It is from within this conceptual space that I engage most freely with unclear and troubling ideas that affect my personal life."
While at Dickinson, Amorosano was a Dean's List student and graduated Cum Laude.  Her artwork has also won the of Colorama Family Vacation Photo Contest in 2016 and, more recently, was a Finalist in Fotofoto Gallery's Third International Phone-ograph Competition in 2017.
Amorosano writes that her work "usually begins with introspection, it ends with extrospection."  She uses the word "extrospection" because of how she will "display or post my work in places where it might reach a sizeable public viewership (like Instagram) and I actively seek feedback from others. Often, a finished piece will take many forms (prints, greeting cards, t-shirts) and appear in different contexts (galleries, classrooms, social media feeds)."
"Through extensive manipulation of color, material, and context, an eye for found objects and an ear for bizarre conversations, I have arrived at a body of work that operates in the narrow space between thought and action and highlights the interconnectedness of private and public life," writes Amorosano.
Chair of the Art & Art History Department Todd Arsenault says of Amorosano's work that "Conceptually, [it] addresses and questions various facets of everyday life and culture in smart and often amusing ways."  He continues to comment that Amorosano "has a great way of recognizing mundane and trivial aspects of our culture as a potential starting point for making art. The resulting pieces go beyond simple observation and strive for the bigger goal of creating something engaging and transformative."
The opening reception of Amorosano's exhibit is scheduled for Wednesday, March 7 at 5:30 p.m. Amorosano will speak at 6 p.m. The exhibit will run through Tuesday, March 27.
More of Amorosano's work can be found on Instragram: @talia_amorosano, and in her ongoing web comic: SELF HELP (@self_help_comic).