Health Concern Arises after Dead Bird Emerges in Quarry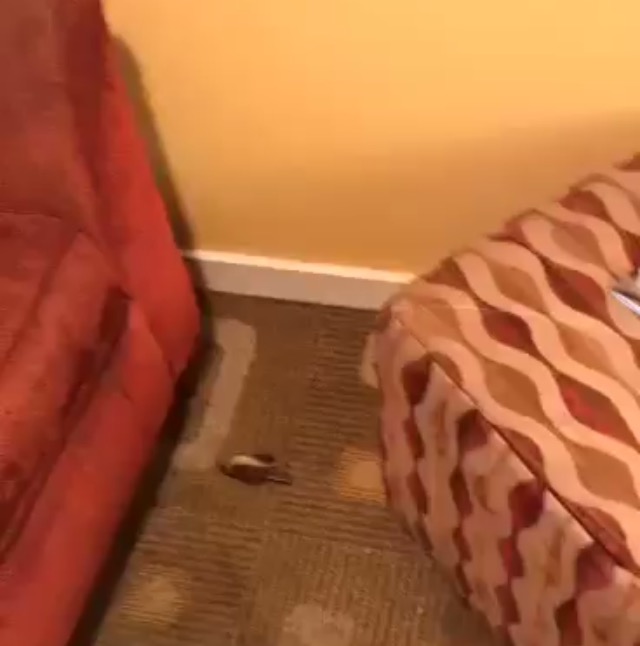 Students have recently expressed concern about food safety on campus. These concerns came after students reported expired food in the Dining Hall and a dead bird was found in the Quarry.
Hill Gobourne '21, who discovered the bird on Sunday, March 18, said "I walked in the room [upper floor of The Quarry] and before I sat down I noticed a dead bird on the ground. … I wondered 'how..did a bird get in here and why is it still here?'"
"I was informed of a bird found on the top floor of the Quarry.  The bird was not in the food service area," explained Director of Dining Services Errol Huffman. "A student pointed it out to a food service worker who used a bag to pick up the bird while using protective gloves then disposed of the bag in the landfill dumpster.  The area was cleaned using our biohazard cleaning standard, which includes a bio-spill clean-up kit." Huffman explained that this is standard protocol when animals are discovered in dining services locations, and that afterwards, the area is further sanitized. He also explained that, in the case of larger animals or infestations, facilities management is tasked with removal.
"I'm slightly surprised that there was a dead bird in the Quarry," said Justine Hayward '18. "It does concern me that there could potentially be bird feces around food preparation and as someone who enjoys Quarry meals, I'm concerned that my past consumption may have been tainted by animals. I'm also concerned that there will be no action in response to the bird being found."
Other concerns have come up around expired foods in the cafeteria. On Saturday, March 24, several members of the track team raised concerns about the Greek yogurt at breakfast. Sophie Brown '20 said, "I ate the [Greek] yogurt for breakfast and thought it tasted like sour cream. I had  my teammates taste it and they said it tasted off. We were told it was Greek yogurt. I thought it was just me."
"I was at breakfast … and this girl on our team had gotten the Greek yogurt," said Candice Ionescu '19, "She said it tasted bizarre. I was like, its caf yogurt, it's probably not gonna be great. I take a spoonful of it, and it tastes like fricking sour cream, like the stuff you put on a taco. Then the caf manager tried it, and he was like 'no, it tastes fine.' I don't like the Greek yogurt, but it definitely doesn't taste like that."
"It had a funny color to it, so I stayed away at first," said McKenna Spaulding '20, "then I saw other people grabbing it so I thought maybe I was being overly cautious and decided to take some myself. When I first tasted it I immediately knew something was wrong. It was either old, sour yogurt or sour cream. But to be honest, I didn't expect any less from the caf."
Huffman explained that Dining Services tracks the arrival date of all food coming into the college, with expiration dates marked on food containers. He explained that after arrival, "all products are immediately moved into appropriate storage locations, e.g. freezers, refrigerators, or dry-storage rooms.  Refrigerators and freezers are monitored regularly by the management team members who record temperatures and times of those checks.  Public Safety and Facilities Management also monitor temperatures through a remote system programmed to activate an alarm if a cold-storage location's temperature rises above the accepted level of 41 Fahrenheit for refrigeration and 0 degrees for freezers."
He furthered that all Dining Services management staff are "National Restaurant Association's ServSafe Manager food safety" certified and other employees who handle food undergo "ServSafe Food Handler certification."
"Our standard of food safety certification is higher than that required by health regulations.
"Food spoilage is not common within Dining Services," said Huffman, "but if it is suspected, we follow a philosophy of "When in doubt, throw it out" and will send suspected food to compost…Dickinsonians may reach out to employees working in an affected building or reach out to Facilities Management 24/7 if they run across similar circumstances; staff will be dispatched to address the issue."