Semiannual Bike to Farm Calls for More Participants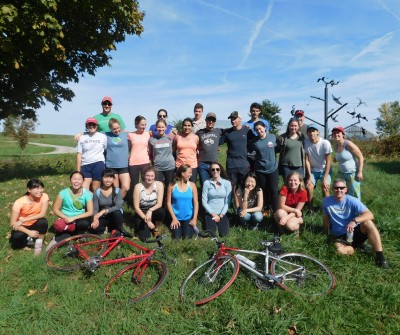 Claire Jeantheau '21, Staff Writer
April 5, 2018
Hang on for a minute...we're trying to find some more stories you might like.
This Saturday, April 7, members of the Dickinson community will bike fourteen miles round-trip to the College Farm for the semiannual spring Bike to Farm Potluck.
Sponsored by the Center for Sustainability Education, the Bike to Farm trip will give participants a chance to ride to the farm, located in Boiling Springs, where they will share a meal. Participants can opt to bike the full fourteen miles or be driven back to campus following the potluck.
As of March 28, 25 participants had registered for the trip, a number Biking at Dickinson intern Madie Ritter '19 would "love to double."
"We're not looking for a minimum or maximum size," added biking intern Sam Waltman '20. "Anyone who wants to come can come."
Waltman believes that students should register for Bike to Farm because "it's a really great way to get connected with the farm on campus."
"It's an absolutely beautiful ride," he said. "A lot of times on campus we forget we're surrounded by beautiful farmland…and you meet new people."
Ritter agreed, saying that "just the celebration of community and doing something fun and eating food [is why it's important]."
This year, Bike to Farm also coincides with Dickinson's three-week long 2018 Energy Challenge.
"The third week's theme is 'Unplug and Go Outside'," explained Lindsey Lyons, assistant director for the Center for Sustainability Education. "We are making that a whole week to get people to spend less time indoors and more outside."
The ride typically occurs twice a year, once in the fall and once during the spring semester. According to Lyons, since first taking place in 2009, Bike to Farm has evolved to become an opportunity for community outreach and biking education.
The original ride, Lyons said, was "just a new thing, the farm was just forming. [We were] just wanting students to get out there and see that facility and simultaneously learn about biking…and now we've added community building and [bike safety]. We do bike tune-ups and checks and teach hand signals."
The Center for Sustainability Education advises participants to bring their bike, a plate and cutlery set, and a potluck dish to share. Waltman also suggested that participants get their bikes tuned up in advance.
"[Bring] closed toe shoes, helmet, make sure your bike is ready—you can stop by the Handlebar [Dickinson's bicycle repair collective] and get your bike checked," he said.
This year, the ride will be followed by Self Care in Fresh Air, an event featuring yoga, meditation and other guided activities by Dickinson organizations. The annual farm event will be held from 1 p.m. to 4 p.m. with the shuttle service starting at 12:45 p.m. from Dickinson Public Safety (DPS).
Bike to Farm will take place from 11 a.m. to 3 p.m. Interested participants are welcome to sign up at www.dickinson.edu/biketofarm. Center for Sustainability Education representatives encourage all students, regardless of biking experience, to register.
"We want a diverse group of people to come," said Lyons. "It's not…a cyclist thing."