Poitras-Gleim Lecture Encourages Interdisciplinary Studies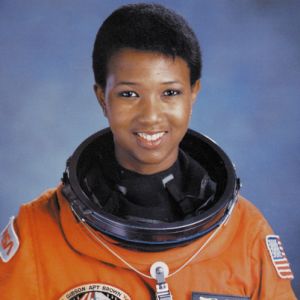 Claire Jeantheau '21, Staff Writer
April 12, 2018
Guest speaker Mae Jemison, who has worked as a dancer, doctor, and astronaut, asserted that "space isn't just for rocket scientists and billionaires" in Dickinson's Poitras-Gleim lecture.
The lecture, an annual event that "provides a forum to explore and promote cross-disciplinary thought and communication," according to Dickinson's website. The lecture was structured as a conversation between Jemison and Sarah Skaggs, associate professor of dance at Dickinson.
The first African-American woman in space, Jemison spoke of her prior experiences in medical science, including her service as a Peace Corps medical officer in Sierra Leone and Liberia. She also provided insights on her current scientific projects, such as the 100 Year Starship, which aims to develop interstellar travel capabilities within one hundred years.
Through efforts like the 100 Year Starship, Jemison hopes to make science more accessible to those traditionally outside the field. "I was trying to include folks that ordinarily wouldn't be included," she said. "That's what my perspective over the years has been: how to get people involved who might not have been involved before."
In keeping with the cross-disciplinary theme of the Poitras-Gleim lecture, Jemison also spoke on her background in the arts. She shared about her interest in dance, beginning with lessons as a child in Chicago, IL. and continuing to her time as an undergraduate at Stanford University. At one point in her life, she weighed becoming a professional dancer against attending medical school, ultimately opting for the latter.
Balance between the disciplines of art and science is essential for Jemison. "I think of the arts as expressing a personal understanding of the universe," she said, "and the sciences expressing a universal understanding of the universe. And we need both."
Jemison described pursuing many simultaneous interests during her first year of college, from taking engineering and first year classes to trying out for women's basketball and theater. This variety resonated with Brendan Carr '21.
"Honestly," said Carr, "this lecture makes me feel much better about what I want to do in college and that I can find connections across disciplines." Carr plans to study the environment and theater. "Whatever you end up doing has a purpose, and she found her purpose in so many things."
Aidan Pidgeon '20 described the lecture as "poignant and insightful, and entertaining.  I was particularly struck by her remarks on humanity's responsibility to itself, as well as those on the importance of mutual respect between different fields of study," Pidgeon said.
Justine Hayward '18 found Jemison an encouraging figure to be able to meet and hear speak of her own experiences as a woman of color in STEM.  Hayward said that "This talk was very inspirational as a woman of color scientist in a primarily white science major, seeing someone who has attained what I envision as success despite obstacles she has encountered in her lifetime encourages me to continue my pursuit of biology."
Jemison graduated from Stanford University in 1977 with a B.S. in chemical engineering, and went on to earn an M.D. from the Cornell University Medical College. She flew aboard the space shuttle Endeavor in 1992, and since then has served as an adjunct professor at Dartmouth College and the founder of several science-focused organizations.
The 2017-2018 Poitras-Glem lecture was held on Tuesday, April 10 in the Anita Tuvin Schlecter Auditorium, and was sponsored by Dickinson Student Senate.