Speaker Claims Radicalization is "Crisis of Identity"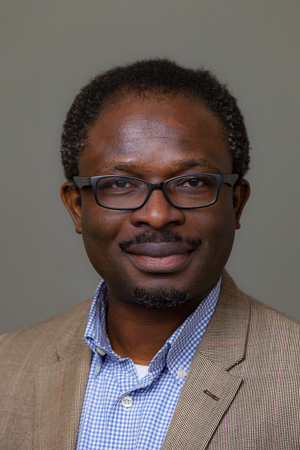 Hang on for a minute...we're trying to find some more stories you might like.
"At the core of radicalization is a crisis of identity," claimed Jacob Udo-Udo Jacob, visiting international scholar in international studies, at the annual Bechtel Lecture. Jacob also explained that self-awareness is the only way to escape from the maelstrom of identity.
Jacob began his lecture, titled (Dis)owning God: Religious Identity and Violent Extremism in the African Sahel Region, by talking about Nigeria's importance as a critical intersection of Christianity and Islam in Africa, and how group religious identity has impacted extremism in the region. Jacob discussed the importance of helping people separate their personal identity from their belief system, something he studied and worked on in Nigeria through programs building interfaith dialogue, the Peace Through Sports program, and a media campaign. Jacob described the close relationship between group identity and extremist groups, saying that group identity has resorted in a sort of religious polarization, where "you are either a Christian or a Muslim."
Programs in Nigeria were specifically designed to break down this narrative, like the Peace Through Sports program, which created interfaith teams for healthy competition and to create a space where people could have conversations, allowing tensions to be eased. In the question and answer session following his lecture, Jacob emphasized that the goal of pushing people to consider themselves outside their faith, not replacing group identity, but raising awareness of other aspects to beliefs and identity in a way that emphasized the individual.
Mia Brenneman '19, said of the event "I was very interested to know about… a new perspective on how extremism groups use a vulnerable identity to target individuals… I feel like it translates well into other discussions on terrorism and extremism."
"I really was interested in the way that [Jacob] established the fact that it really isn't a misinterpretation, it's just a warping of individual identity and group identity," said Caity McNulty '21, about religious extremism. "I thought that was really fascinating."
In an interview after the lecture, Jacob said that his initial interest in the topic of security and peace studies came from security problems in the Niger Delta, near his own hometown of Calabar in southern Nigeria, where environmental, economic, and political issues compounded to produce a "cocktail" that "resulted in a crisis," in his words. He also elaborated only the impact of climate change on security in the region, saying "it plays a very big role, and will continue to play even a bigger role," and explained that environmental pressures in the Lake Chad region have produced "increasing tension and clashes between herdsmen and local farmers." Jacob also stressed that programs that worked in Nigeria may not work in other situations, saying that solutions require answering questions like "How do we engage with the media?" and "What are the dynamics of the conflict? What is the history of the conflict?"
The annual Bechtel Lecture was established in honor of Joan and Dan Bechtel to support events and speakers related to Africa; previous topics have included democracy in West Africa, sustainable development, and biodiversity. The lecture took place on Monday, April 9, and was hosted by the Clarke Forum for Contemporary Issues.