Speaker Claims "Latinx" Combats Binary Identities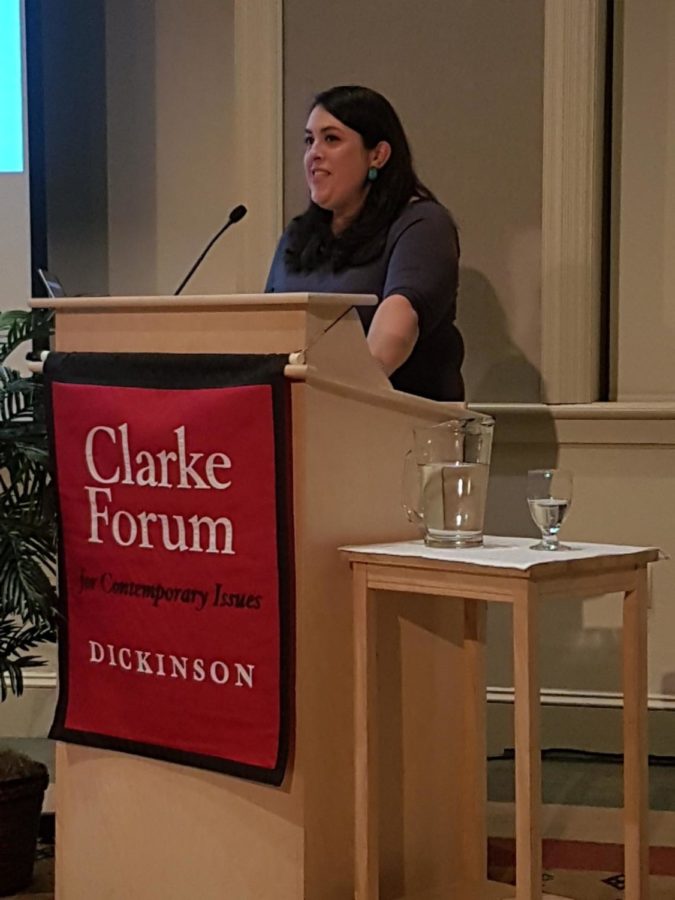 Emily Messer '20, News Editor
April 19, 2018
The term Latinx is "finding its way through the academy" led by "queer millennials" as a "declaration of community" that critiques racism and heterosexism claimed, Dr. Nicole Guidotti-Hernández.
Guidotti-Hernández spoke as part of an event sponsored by the Clarke Forum on Thursday, April 12 called "Latinx: The Future is Now."
Guidotti-Hernández is an associate professor of American studies and Mexican American and Latino/a studies at the University of Texas at Austin.  According to the event flyer, "her research focuses on borderlands history after 1846, transnational feminist methodologies, Latinx studies and popular culture and immigration."
Guidotti-Hernández began her speech by speaking on the history and origins of the term Latinx, which she considers "an effective term."  She explained that the "x" originated with the Nahuas, an indigenous people of Mexico and El Salvador, as the symbol for a sound pronounced as "ch" by the Spanish colonizers who entered the area.
She elaborated on how Latinx developed as a way to "sound ethnic nationalism through language," finding most of its standing in use on social media platforms such as Facebook, Twitter and Instagram "as protest."  She emphasized that these social media uses "all indicate the proliferation of Latinx" in popular culture and demonstrate the way "millennials…have transformed Latinx studies."
"Latinx offers a removal from that as well as a broader sense of unity," says Elizabeth Marin '18. "I thought Dr. Guidotti-Hernández's lecture embodied this as she connected the word Latinx to Malcolm X and a resistance to numerical, capitalist language as well as to the purity of language."
However, Marin added that "it would also have been great to hear her address some of the issues with Latinx, such as it erasing ethnic differences and remaining liable to hierarchies of power."
Guidotti-Hernández also spoke of what it is to "feel Latinx," saying that "to feel Latinx, rather than Latino, is to fight antagonisms within social change" in "a field that has a lot of inherent racism."
The importance of AfroLatinidad as a "central project of Latinx" was also discussed. Guidotti-Hernández argued that the term Latinx has the ability to reference "race yoked with gender fluidity" and simultaneously combat white "homonormativity" by "trying to dismantle the whiteness of queerness." She summarized saying that Latinx is "clapping back at whiteness."
The associate professor also explained that the "x" of Latinx should be seen as "an expression of freedom" by "millennials [who] are trying to understand history as brown-ly, blackly, queerly [and] trans-ly as possible."
She also spoke of pronouns in Spanish and their inherently "gendered" structures.  Guidotti-Hernández mentioned the use of a gender-neutral pronoun "dey" in Spanish and argued that its success, as with the term Latinx, will come from being "the most linguistically contradictory" it can be.  "I don't think this linguistic debate is going to go away," she said.
Guidotti-Hernández wrapped up her talk by explaining that Latinx is an "excessive affective over-load" and that quality is what is largely effective about it as a "racial signification" and "a mode of self-representation."  However, Guidotti-Hernández emphasized the "limitations and complications" of Latinx because of the reality that there is "a power in numbers" and the inclusion of many under this term. "On the other hand, the desire not to be erased" by non-queer and white identities is strong and relevant amongst queer and AfroLatinidad communities.
This lecture was hosted by the Clarke Forum on Thursday, April 12, in the Stern Center Great Room.