Music Audition Night Welcomes All Performers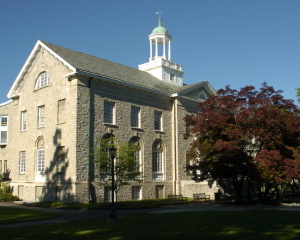 Sarah Manderbach '22, Contributing Writer
September 13, 2018
Hang on for a minute...we're trying to find some more stories you might like.
Students wielding instruments and sheets of music practiced in the halls of the Weiss Center for the Arts building on Tuesday night for Dickinson's annual Music Audition Night. 
About 80-100 students on average show up to audition for any of the college's music programs, said Stacy Rohrer, the academic department coordinator for music. Student outcome this year was equally as high as previous years.
"[Students] come for a brief presentation on lessons and ensembles," Rohrer says. "They also audition for the faculty member of their instrument." 
The event is held once every year in hopes of encouraging students, both new and returning, to enroll in the music department on campus, whether for an ensemble or the yearly musical theater productions.
The music department offers four ensemble options, according to the music department page on the Dickinson website: jazz ensemble, orchestra, chamber ensembles and choir. Students can sing or play a wide range of instruments for these groups, from the double bass to the harpsichord. 
Choir has 85 members this year, according to Amy Wlodarksi, the music department chair.   
Lillian Carver '21 is one of those 85. She successfully auditioned for choir last year, and this year she returned to try out for the play "Mr. Burns." 
"My voice teacher is helping with the show and I'm really excited for it," Carver said. She will play Marge Simpson in the upcoming production.
Carver's love of music came from her New York City roots and the wide range of musical pieces she performed with her high school choir. "I have been singing pretty much all my life," she said. "My mom was a singer professionally, and she still sings in church choirs." 
Rohrer said the staff in the music department is extremely supportive of those who participate in the music programs on campus. "The music department, if nothing else, is an incredible community. Non-majors that are as every bit as active as our majors are welcomed here."  
Not everyone is comfortable with auditions, especially when entering a new college setting. Carver suggests "anyone and everyone who loves music" come audition. "I'm personally not a music major or minor, but I have found a home in the music department anyway. Participating in the choir has been so rewarding." 
"If somebody felt uncomfortable about coming to audition tonight," Rohrer says, "or if they felt their schedule wouldn't allow for ensembles or lessons, there is always another time." 
Rohrer suggested students interested in joining next semester should contact the music department.